Beth McCormick, John Haran work with Kaleido Biosciences to explore link between microbiome and COVID-19
Outpatients with mild-to-moderate COVID-19 will be enrolled in clinical study of microbiome metabolic therapy at UMass Medical School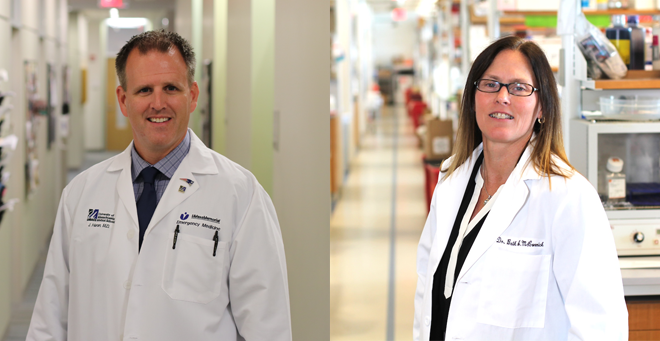 UMass Medical School investigators John P. Haran, MD, PhD, and Beth McCormick, PhD, have teamed up with Kaleido Biosciences, Inc. to research the role of the microbiome in patients who are positive for SARs-CoV-2 infection with mild-to-moderate COVID-19. The study, which is being conducted in collaboration with Dr. Haran and researchers at the UMass Center for Microbiome Research, plans to enroll 400 outpatients with SARs-CoV-2 to evaluate Kaleido's microbiome metabolic therapy candidate added to supportive self-care.
"Targeting the microbiome represents an exciting approach to help mitigate the impact of the COVID-19 pandemic and is one approach that the UMass Center for Microbiome Research has also been examining," said Haran, associate professor of emergency medicine, microbiology & physiological systems and clinical director of the UMass Center for Microbiome Research at UMass Medical School. "We are excited to evaluate this approach and its potential to modulate the immune response of patients who are newly diagnosed with COVID-19 and hoping to recover at home without needing to be hospitalized. We are pleased to play a role in advancing this novel intervention in an effort to address a critical global health crisis."
The UMass Center for Microbiome Research was created in 2014 with support from the University of Massachusetts President's Science and Technology Initiatives Fund to accelerate the understanding of how the microbes that live in and on humans influence their lives, health and environment. Dr. McCormick, the Worcester Foundation for Biomedical Research Chair, and vice chair and professor of microbiology & physiological systems, is the founding director of the center.
COVID-19 infection has been associated with activation of an inflammatory cascade, which in some patients can cause an abnormally aggressive immune response that can lead to pneumonia and respiratory failure. Animal models have shown that certain metabolites, such as short chain fatty acids produced by the microbiome through fermentation of glycans, can modulate the immune response and therefore could potentially play a role in limiting this inflammatory cascade.
Data also supports the role of short chain fatty acids in reducing the impact of viral infections. In patients undergoing hematopoietic stem cell transplants who have contracted respiratory viral infections, the presence of bacteria producing short chain fatty acids has been associated with a significantly reduced risk of progression to lower respiratory tract infections.
Kaleido's microbiome metabolic therapies are similar to a prebiotic, according to Haran. It is designed to feed and promote the healthy bacteria in the gut. It drives the function and distribution of the microbiome's existing microbes in order to decrease or increase the production of metabolites, or to advantage or disadvantage certain bacteria in the microbiome community.
Kaleido's COVID-19 development program aims to enroll approximately 400 outpatients with mild-to-moderate disease in two non-IND clinical studies that are designed to evaluate the effects of supportive self-care plus its compound compared to supportive self-care. The program includes a multi-center study of approximately 350 patients and a second study of approximately 50 patients that will also evaluate the composition and metabolites of patients' microbiomes.
Patients will monitor and record objective measures, such as temperature and oxygen levels, and participate in telemedicine visits with clinicians. The studies will include assessment of clinical outcomes, healthcare utilization, and biomarkers of the inflammatory response that will inform the potential of Kaleido's microbiome metabolic therapy in COVID-19 as well as other viral and bacterial infections.
"The burden of the COVID-19 pandemic on patients and healthcare facilities is vast, and there remains a need for interventional studies evaluating patients with mild-to-moderate disease, which represents the majority of infections," said Katharine Knobil, MD, Kaleido's chief medical officer and head of research and development. "We have evidence from our ex vivo research that our microbiome metabolic therapy increases the production of metabolites that have been shown to improve the immune response in viral respiratory infections. Published data suggest these metabolites may prevent an overaggressive immune response to COVID-19 and avoid more serious complications of this infection. Because of the favorable safety profile of our microbiome metabolic therapy, we are able to rapidly initiate this very important clinical study."
Related links on UMassMedNow:
John Haran works to understand how microbiome impacts development of Alzheimer's disease
Beth McCormick, John Haran explore link between microbiome and Alzheimer's disease
John Haran focusing on microbiome to understand C. difficile in nursing homes