UMMS assistant professor named one of nation's top scientists
Thomas G. Fazzio, PhD, receives Presidential Early Career Award for Scientists and Engineers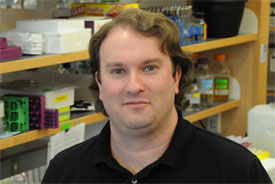 Thomas G. Fazzio, PhD, assistant professor of molecular medicine, has been recognized as a rising scientific star by President Obama with a Presidential Early Career Award for Scientists and Engineers.
The Presidential Award is the highest honor bestowed by the U.S. government on outstanding scientists and engineers in the early phases of their research careers. Dr. Fazzio was one of 102 scientists and engineers selected for this year's award.
"It's an honor to be chosen, among so many outstanding scientists, for this award by President Obama," said Fazzio of the Program in Gene Function and Expression. "It means a lot to have our work recognized at the national level and to know the value that the President and his administration places on biomedical research and advancing scientific inquiry."
Presidential awardees are selected for their pursuit of innovative research at the frontiers of science and technology and their commitment to community service as demonstrated through scientific leadership, public education or community outreach. Granted to a select group each year, the awards are intended to showcase and nurture some of the finest scientists and engineers who show exceptional potential for leadership at the frontiers of scientific knowledge.
"Dr. Fazzio is a truly outstanding young investigator. He brings a fresh new perspective to the field, studying the regulation of genes in stem cells from an exciting new angle," said Terence R. Flotte, MD, the Celia and Isaac Haidak Professor of Medical Education, executive deputy chancellor, provost, dean of the School of Medicine and professor of pediatrics. "We are fortunate and very proud to have him as a member of the UMMS scientific community."
A member of the faculty since 2010, Fazzio focuses on how DNA is packaged into tiny chromatin structures inside the nucleus of stem cells. Through his work, Fazzio has uncovered previously unknown processes governing how the chromatin structure of a cell's DNA influences gene expression in stem cells, conferring on these cells the unique ability to replicate and differentiate into many different types of cells.
"We're interested in understanding the biological processes that allow a stem cell to become a muscle cell, a blood cell or any other kind of cell," said Fazzio. "The knowledge we gain from answering these questions can be used to identify potential new targets for drugs that attack cancer stem cells within tumors and pave the way for the development of stem cell-based therapies for degenerative diseases."
A 2011 Pew Scholar recipient, Fazzio came to UMMS following a postdoctoral fellowship at the University of California San Francisco where he studied chromatin regulation in stem cells in the labs of Barbara Panning, PhD, and J. Michael Bishop, MD. While at UCSF, his work was supported by a postdoctoral fellowship from the Jane Coffin Childs Memorial Fund for Medical Research and a Pathway to Independence Award from the National Institutes of Health.
Fazzio received his PhD from the University of Washington and Fred Hutchinson Cancer Research Center in 2004 for work on yeast chromatin regulation in the lab of Toshio Tsukiyama, PhD, DVM, and completed his undergraduate degree at the University of Utah in 1997 where he studied the genetics of vitamin B12 metabolism in Salmonella typhimurium in the laboratory of John R. Roth, PhD.
Fazzio is the fourth UMMS faculty member to receive the Presidential Award. Previous awardees include Chyke Doubeni, MD, MPH , former associate professor of family medicine & community health; Neal S. Silverman, PhD, professor of medicine; and JeanMarie Houghton, MD, PhD, associate professor of medicine and cancer biology.
For more information about the PECASE Award, visit http://grants.nih.gov/grants/policy/pecase.htm.