Empowering a community
At WRAP Family Health Night, youth shine as advocates and leaders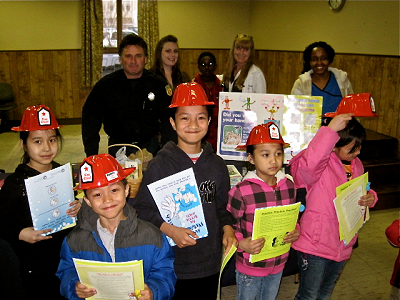 Attendees show off the take-home materials that reinforce the lessons learned at the WRAP Family Health Night.
When GSBS student Nang Maung first started volunteering with the Worcester Refugee Assistance Program (WRAP), she saw the potential to empower refugees from Burma living in Worcester as a way of deepening the impact of her volunteerism. Recently, she saw that empowerment in action at WRAP's Family Health Night, an event where members of this refugee community learned important health lessons from each other.

Family Health Night was the culmination of months of planning by Maung, first-year medical students Sarah Tracy and Michael Richardson, WRAP founder and executive director Meredith Walsh and, most importantly, members of the Burma Youth Organization (BYO) who took leadership roles as advocates for their community.

Family Health Night came about as a result of a Martin Luther King Jr. Semester of Service award that Maung, Tracy and Richardson received from the Building on the Promise: Learn and Serve UMass program. In their award application, they envisioned enlisting members of the BYO to teach their fellow community members about common health issues that had been identified by the community as important to them.

Maung and Tracy were both already serving as WRAP family mentors and each had other goals in addition to their one-on-one roles with refugee families. Tracy had a vision to enlist the medical student community to teach health basics to the refugee community and Maung wanted to further empower the refugee community teens. Walsh, who oversees the WRAP volunteers, realized that Maung and Tracy could partner to accomplish what they might not be able to do alone.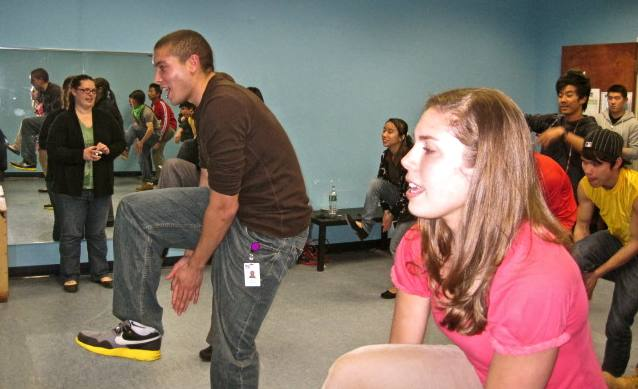 Michael Richardson and Sarah Tracy teach volunteers from the Burma Youth Organization some dance fitness moves in preparation for Family Health Night.
As a student representative from Quinsigamond House, one of five new SOM learning communities, Tracy was able to recruit her fellow med students to help prepare the youth organization members for their roles at Family Health Night. The UMMS students met with BYO teens several times in the spring to discuss sexual health, tutoring services, college and careers in health care and encourage them to volunteer at Family Health Night.

The UMMS students then taught the youth organization volunteers about a chosen health topic and helped them create posters that would aid in communication at the Family Health Night. On the night of the event, BYO members were paired with UMMS students to staff a station dedicated to a single topic. The BYO volunteers took the lead in educating attendees, with the UMMS students acting as back-up when questions arose that their BYO counterparts needed help with.


In addition to pursuing her PhD and volunteering, Nang Maung received a 2011-12 Schweitzer Fellowship, a highly sought-after, year-long fellowship awarded to those who show potential as leaders in service. The WRAP Family Health Night was an off-shoot of her Schweitzer project to promote self-reliance among refugees from Burma living in Worcester by empowering them with language skills, information and confidence to access services available to them. In addition to teaching literacy and homework help classes to this refugee population, she is working to implement lesson plans and spoken English exercises focused on topics most relevant to survival and adjustment in the United States. She is also working with BYO teenagers to lead future ESL classes.
The success of the WRAP Family Health Night exceeded expectations, according to Maung. More than 150 members of the Burmese refugee community came to learn about family planning, nutrition, oral health, fitness and bicycle safety. They also learned more about the health resources available to them and how to access them, and increased their understanding of the importance of healthy habits. It was also an opportunity for BYO teens to experience leadership and volunteerism firsthand.

"I really liked this event because it was closed ended. We got to see the result of our planning right away," said Maung.

In addition to the five stations that addressed topics chosen by the refugee community, the Worcester Fire Department, Planned Parenthood and a group of public health nurses also provided information. The funds that Maung and Tracy received from Learn and Serve were used to buy 50 bike helmets, which were distributed at Family Health Night, and also went toward the healthy snacks that were served. There was also entertainment provided by Lindiana's School of Dance.

"It was great to see the community come together," said Maung. "They're very willing to learn and it was nice to see them interacting with UMMS students, who learned a lot too."