Page Menu
Molly Senn-McNally, MD - Brightwood House Mentor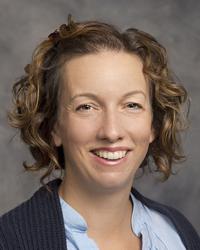 Dr. Molly Senn-McNally grew up in Granville, Ohio. She originally moved to Massachusetts to attend Smith College in Northampton. Molly worked at many different jobs after she graduated from college, including as an English teacher in Japan, a political fundraiser in San Francisco, a case manager for homeless families and survivors of domestic violence, and a website developer for urologists before she attended medical school at Tufts University School of Medicine. She first came to Baystate as a third-year medical student and has been at home hhere ever since, completing her pediatric residency and chief residency at Baystate as well.
Molly is currently an Assistant Professor in the department of Pediatrics at UMass Chan-Baystate. She is the Continuity Clinic Director at Baystate General Pediatrics and an Associate Program Director for the UMass Chan-Baystate Pediatric Residency Program. Dr. Senn-McNally has created innovative curricula for pediatric residents around poverty, social determinants of health, and advocacy. She has co-directed the Culture, Society, and Health rotation for the residency for the last two years. She has served as faculty for the PURCH Population Health Clerkship and as a facilitator for the Poverty Simulation for multiple audiences.
Molly takes great joy in being a primary care pediatrician and continuity clinic preceptor at Baystate General Pediatrics. She also serves as the school physician for the Springfield Public Schools.
A life-long learner, Molly was selected to participate in the Educational Scholars Program of the Academic Pediatrics Association, a national professional development program focusing on medical education scholarship. As part of that program, Dr. Senn-McNally is currently conducting a qualitative interview study that focuses on the care of and teaching about children with mental health issues.
Molly lives in the Pioneer Valley with her family. She has a love/hate relationship with running and a love/love relationship with cooking and eating. She has developed more recent interests in houseplants, birds, and hiking, and she is learning to play the guitar.