Page Menu
Current Personnel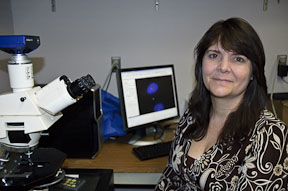 Lisa Hall PhD
Associate Professor
BA: The Colorado College, Biology, 1988
PhD: Univ. California-Davis, Genetics, 1996
Lisa.Hall@umassmed.edu
Lisa Hall is a co-investigator with Dr. Jeanne Lawrence on numerous research projects pertaining to nuclear structure and epigenetic regulation of the genome. Lisa's main research interest is studying how long non-coding RNAs interact with chromatin, the functional importance of the repeat genome in gene regulation and nuclear structure, as well as our ongoing project silencing the extra chromosome 21 in Down syndrome patient cells using targeted integration of an XIST transgene. Lisa was also the Assistant Director for the human medical genetics course here at UMMS from 2002-2010, and she continues to teach and help administer the course.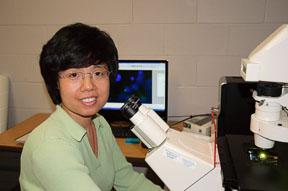 Jun Jiang, MD, PhD
Research Assistant Professor
MD: China Medical University, Pediatrics, 1990
PhD: China Medical University, Molecular Genetics of Pediatrics, 2005
Jun.Jiang@umassmed.edu
Jun Jiang received her M.D. from China Medical University. She had practiced medicine specialized in childhood developmental and genetic diseases for ten years. During her practice, she gained firsthand clinical experience, but also realized that a better understanding of diseases at the molecular level was critical for proper diagnosis and treatment of these diseases. Her Ph.D study was centered on molecular mechanisms of a number of childhood genetic disorders. In addition, she had spent another four years studying the molecular mechanisms of neuronal axon growth and guidance. Since 2009, she has been working on the high-risk Down's syndrome "chromosome therapy" project as a senior researcher in Dr. Jeanne B. Lawrence's lab for four years and her extensive experience on human genetics and neuroscience has helped her make a substantial contribution to the "chromosome therapy" project. Using zinc finger nuclease technology, she has successfully inserted an inducible, large XIST transgene into Chromosome 21 in induced pluripotent stem (iPS) cells derived from a Down's syndrome patient, which results in chromosome-wide transcriptional silencing of the extra Chromosome 21. Successful trisomy silencing in vitro surmounts the major first step towards potential development of "chromosome therapy" (Jiang et al 2013, Nature).


Kelly Smith, PhD
Research Associate Professor
Meg Byron
Research Associate, 1993-Present
BA: Framingham State College, 1996
Meg.Byron@umassmed.edu
Yuanchun Jing
Research Lab Tech I, 2012-Present
BS: Shenyang Institute of Technology, 1991
Yuanchun.Jing@umassmed.edu

Kevin Creamer, PhD
Postdoctoral Research Associate
Kevin.creamer@umassmed.edu

Melvys Valledor Ceballos, PhD
Postdoctoral Research Associate
Melvys.valledor@umassmed.edu

Jen-Chieh Chiang (Jay)
Graduate Student
MS: New York University, Biology, 2010
BS: Taipei Medical University, 2007
Jen-Chieh.Chiang@umassmed.edu
Jan Czerminski
MD/PhD Student
jan.czerminski@umassmed.edu
Eunmi (Jennifer), Moon
Graduate Student
Jennifer.moon@umassmed.edu
Laurie Lizotte
Project Coordinator and Adminstrative Secretary
Laurie.Lizotte@umassmed.edu