Page Menu
Youth Data
Greater Worcester Regional Youth Health Survey (RYHS)
Did you know...84% of middle school students in the Greater Worcester area felt that there are adults in their lives that they can talk to about their future? How about that 24% of high school students reported eating 2 or more servings of fruit per day?
To find out more about what the middle school and high school youth report about their lives, read the survey results below. The purpose of the Greater Worcester RYHS is to learn about youth health by surveying youth about safety, violence, substance use, nutrition, physical activity, mental health, and other health related topics.
Every two years, the Greater Worcester RYHS is administered to middle and high school students in the City of Worcester, Massachusetts and surrounding towns by the Worcester Division of Public Health and the UMass Worcester Prevention Research Center.
The surveys were administered in 2013, 2015 and 2017 to students in the following cities and towns:
- Grafton
- Millbury
- Leicester
- Shrewsbury
- Worcester
Summary Reports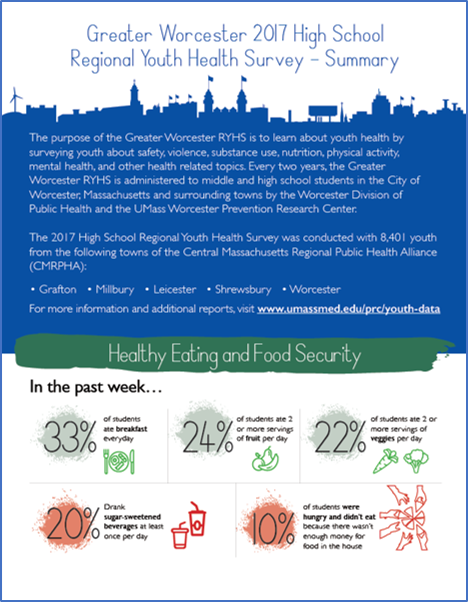 Summary: 2017 Greater Worcester Regional Youth Health Survey High School Report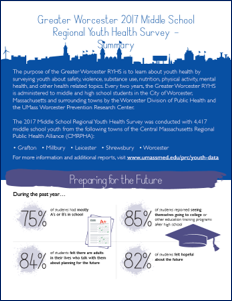 Summary: 2017 Greater Worcester Regional Youth Health Survey Middle School Report
Overall Prevalence Reports
2017
Greater Worcester 2017 Middle School Regional Youth Health Survey. Overall Prevalence
Greater Worcester 2017 High School Regional Youth Health Survey. Overall Prevalence
2015
Greater Worcester 2015 Middle School Regional Youth Health Survey. Overall Prevalence
Greater Worcester 2015 High School Regional Youth Health Survey. Overall Prevalence
2013
Greater Worcester 2013 High School Regional Youth Health Survey. Overall Prevalence