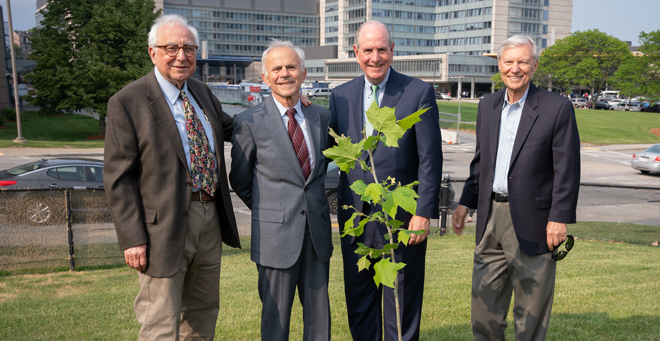 A new addition to the UMass Chan Medical School campus is rooted in the history of medicine and the teachings of Hippocrates.
Chancellor Michael F. Collins welcomed Vassilis I. Zannis, PhD, professor emeritus of cardiovascular medicine, and professor of biochemistry and cell biology at Boston University Chobanian and Avedisian School of Medicine, and Emmanuel E. Paraschos, PhD, professor of journalism at Emerson College, to UMass Chan for the planting of a branch from the "Tree of Hippocrates" on May 24.
"It is great to have Hippocrates' legacy here on campus today and well into the future," Chancellor Collins said.
Dr. Zannis orchestrated the propagation of a branch from an Oriental plane tree on the island of Kos, Greece, to be planted at UMass Chan. The originating plane tree in Greece, a descendant of the first "Tree of Hippocrates," is near the entrance to the sanctuary where it's believed Hippocrates taught and practiced medicine more than 2,500 years ago. A similar branch from the plane tree on Kos was planted at Boston University in March 2008.
Zannis said plane trees have a life span of several hundred years. "One may imagine that 500 years from now, this tree may still be standing here at UMass Chan and representing the advances of modern medicine, Hippocrates' teachings and classic Greek ideals," he said.
Michael P. Czech, PhD, the Isadore and Fanny Foxman Chair in Medical Research, founding chair and professor emeritus of molecular medicine, worked with Zannis to coordinate the planting of the Hippocrates tree on campus.
"This tree is something we can look back at over the years with pride," Dr. Czech said. "It is a symbol of hope and a reminder to resist complacency and to keep our creative juices flowing."
Silvia Corvera, MD, the Endowed Chair in Diabetes Research and professor of molecular medicine, and Tammy Nguyen, MD, PhD, assistant professor of surgery, rounded out the event's list of speakers.