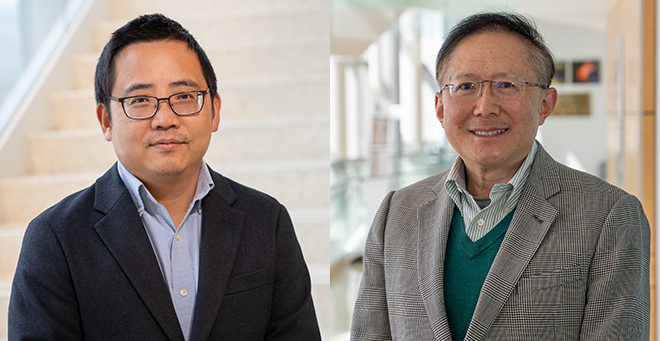 UMass Chan Medical School has licensed the rights to develop and commercialize a novel second-generation gene therapy to treat spinal muscular atrophy to CANbridge Pharmaceuticals Inc., a global biopharmaceutical company. Based in China and Burlington, Massachusetts, CANbridge is committed to the research, development and commercialization of transformative therapies to treat rare diseases and cancers.
Preclinical data presented by scientists from the Horae Gene Therapy Center at UMass Chan at the 25th Annual Meeting of the American Society of Cell and Gene Therapy, the European Society of Cell and Gene Therapy annual congress and the World Muscle Congress showed that the next generation AAV gene therapy outperformed the benchmark therapy along multiple key endpoints in an animal model of SMA and exhibited less liver toxicity when administered intravenously.
"The second-generation therapy restores the expression of the mutant SMN1 gene to physiological levels in the central nervous system and peripheral tissues, enabling a precise gene therapy," said Jun Xie, PhD, associate professor of microbiology & physiological systems and lead author of the study. Spinal muscular atrophy, also known as SMA, is a rare genetic disorder that starts in the central nervous system and affects all the muscles in the body. SMA is a fatal degenerative condition; people with it experience a loss of motor neurons followed by a progressive decline in muscle strength and function over time. The disease is caused by the lack of a functional motor survival neuron 1 (SMN1) gene, which codes for a protein essential to motor neuron survival.
Approved SMA treatment options are limited.
"The novel hSMN1 AAV gene therapy vector has a remarkably improved potency and safety profile as compared to the benchmark vector, holding great promise for further clinical development," said Guangping Gao, PhD, the Penelope Booth Rockwell Professor in Biomedical Research, professor of microbiology & physiological systems, director of the Horae Gene Therapy Center and co-director of the Li Weibo Institute for Rare Diseases Research. "We feel confident in CANbridge's ability to develop this gene therapy, which could help more patients and families suffering from this devastating disease."
When compared to a benchmark gene therapy, this second-generation therapy resulted in a longer lifespan, better restoration of motor function and more complete neuromuscular junction innervation, without the liver toxicity seen with the benchmark vector.
"The gene therapy we developed with UMass Chan, and to which we now have global rights, holds promise as a second-generation therapeutic for SMA," said James Xue, PhD, founder, chairman and CEO of CANbridge Pharmaceuticals Inc. "As we also add two additional gene therapy programs for Fabry and Pompe diseases to our pipeline at the newly opened CANbridge Next-Generation Innovation and Process Development Facility in Burlington, we look forward to developing potential best-in-class gene therapies for these three rare diseases that currently have limited treatment options."
The CANbridge partnership was facilitated by Bridge Innovation and Business Development at UMass Chan Medical School.
Related UMass Chan news stories:
UMMS licenses gene therapies for Tay-Sachs and similar diseases to Axovant
UMass Medical School licenses gene therapy approach for Leber congenital amaurosis
Novel therapeutic, based on UMMS microbiome discoveries and licensed by Bacainn Therapeutics, targets ulcerative colitis