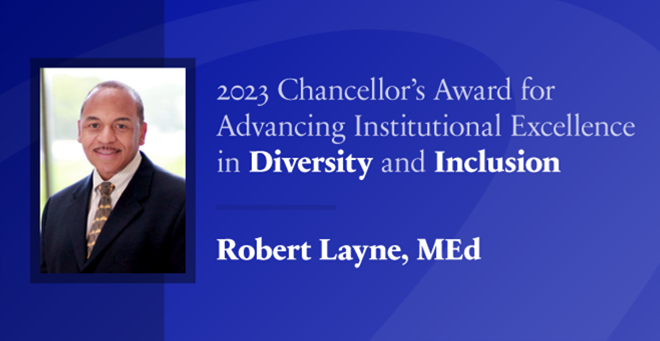 Chancellor Michael F. Collins named Robert E. Layne, MEd, assistant dean for outreach programs and instructor in radiology, recipient of the 2023 Chancellor's Award for Advancing Institutional Excellence in Diversity and Inclusion at the 35th annual tribute to Dr. Martin Luther King Jr., held virtually on Wednesday, Jan. 25.
The T.H. Chan School of Medicine student winners of the MLK Semester of Service grants were also announced, and keynote speaker Michael Curry, JD, president and CEO of the Massachusetts League of Community Health, presented "The Other America: Injustice in Health," a talk inspired by Dr. King's 1967 speech "The Other America" at Stanford University.
Chancellor Collins said Layne's nomination, submitted by his colleagues, "captured, in compelling fashion, the myriad contributions of a UMass Chan community member who exemplifies the attributes this award seeks to celebrate."
Genuinely humble, a true role model, an outstanding ambassador, an excellent collaborator, and the epitome of integrity and courtesy were some of the characteristics used to describe Layne in the nomination.
Layne, a longtime educator and mentor who has directed outreach programs since 1996, works to bring students underrepresented in health care careers into the science, technology, engineering and math pipeline by partnering with greater Worcester's public schools, institutions of higher education, businesses, human service agencies and the region's youth.
Four teams of T.H. Chan School of Medicine students received MLK Semester of Service Awards to implement community service programs. Managed by the Diversity and Inclusion Office, the award program is an initiative that enhances health care education for UMass Chan students as they expand the institution's impact and reach in local neighborhoods.
The medical students will use the $500 awards to make free eye screening available to Worcester locals, help survivors of commercial sexual exploitation with medical care, facilitate educational sessions on the hazards of heat islands and plant trees annually in Worcester, and provide free skin cancer screening and dermatology consultation services in homeless shelters and at free clinic events.
The 2023 MLK Semester of Service Student Award projects are:
Seeing Eye to Eye: Enhancing access to interprofessional care at Wesley Eye and Ear Clinic
Project objectives: To expand Worcester community members' access to free eye screening by encouraging UMass Chan students, ophthalmology residents and attendings to volunteer at the Wesley Eye and Ear Clinic.
Students:
Claire Meyerovitz, Jessica Eskander and Danielle Heims-Waldron
Community partner:
Wesley Eye and Ear Clinic under the Worcester Free Care Collaborative
Breaking medical barriers through advocacy for Worcester survivors
Project objectives: To pair medical and nursing students with survivors of commercial sexual exploitation so students can act as liaisons for medical and health care provider appointments.
Students: Evelyn Semenov, Shivahamy "Shivi" Maheswaran, Stevie Yang, Rosemary Cobb, Ana-Maria Poole and Ariana "Ari" Fantakis Ettorre
Community partners: Living in Freedom Together and Community Healthlink
Implementing shade for a brighter future
Project objectives: To collaborate with Worcester Public Schools and the Worcester Urban Forestry Tree Commission to facilitate educational sessions on the hazards of heat islands, and an annual hands-on tree planting event for the Worcester community.
Students: Christopher Fay, Maximilian "Max" Kinne, Ryan Chen, Adrienne Conza and Yuying Zhang
Community partners: Worcester Public Schools and Worcester Urban Forestry Tree Commission
Bridging the gap of access to dermatologic care in patients experiencing homelessness
Project objectives: To provide free skin cancer screening and dermatology consultation services in homeless shelters and through free clinic events in Worcester.
Students: Nicole Loranger and Stephanie Choi
Community partners: Veterans Inc., St. John's Food for the Poor, YMCA of Central Massachusetts and AIDS Project Worcester, Inc.
Keynote speaker Michael Curry urged listeners to remember the people who contracted COVID-19 and died during the pandemic and noted that Massachusetts's high rank in administering 17. 5 million doses of vaccines was due to the persistence of advocates who constantly brought the question of equity to the table.
Curry said that growing up in Roxbury and seeing disparities, particularly in health outcomes, proved King's words that of "all the forms of inequality, injustice in health is the most shocking and the most inhuman because it often results in physical death."
He called on listeners to recognize that King's choice of words spoke to the social determinants of health then as it does now. He applauded the work done at community health centers established during the Civil Rights Movement that do the intersectional work of addressing social issues to prevent health disparities.
Introducing the concept of weathering, the repeated exposure to socioeconomic adversity, political marginalization, racism and perpetual discrimination as harmful to health, Curry challenged listeners to reflect.
"I ask you to start thinking about in the work that you do, as we talk about Dr. King's legacy, to ask yourselves what are you weathered to and how do you unweather yourself from those things? How do you have a sense of urgency about changing the conditions, the circumstances of the people who are living in our communities?"
"Connecting the dots means that if Dr. King was sitting here right now on this call, he would say, there is unfinished business."
Curry urged listeners to pay attention to the wealth gap, achievement gap and poverty rates and collectively tend to King's unfinished business.
Related UMass Chan news stories:
LISTEN: Worcester Pipeline Program inspires students to consider health and science careers
Robert Layne named assistant dean for outreach programs
At MLK tribute, Mary Munson recognized for commitment to diversity and inclusion in science field