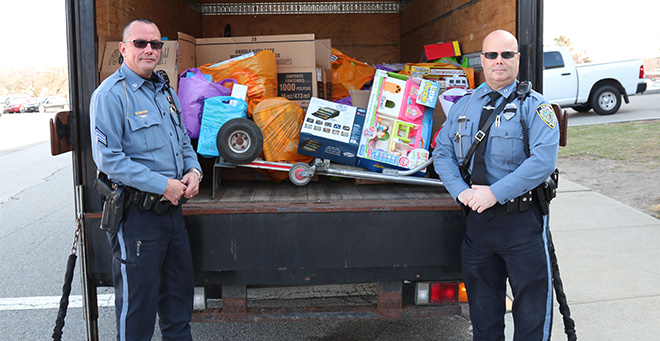 The UMass Chan Medical School Department of Public Safety is hosting its annual stuff-a-cruiser toy drive to support Worcester-area foster families.
A UMass Chan Public Safety vehicle will be parked outside the Albert Sherman Center on Monday, Dec. 5, from 8 a.m. to 4 p.m., collecting age-appropriate unwrapped toys, gift cards, winter hats, gloves and mittens for infants, toddlers, school-aged children and adolescents aided by the Worcester Department of Children and Families.
UMass Chan public safety vehicles will also be outside of Walmart in Northborough on Saturday, Dec. 3 collecting toys from holiday shoppers.
The toys will be distributed at the annual Department of Children and Families holiday party hosted by UMass Memorial Medical Center on Dec. 18 at the DCU Center in Worcester. It will be the eighth year UMass Memorial has hosted the party and the first year since the start of the COVID-19 pandemic the party is being held in-person.
Each year, as many as 250 children receive a gift during the holiday party. Any additional toys are distributed to the Worcester Department of Children and Families offices for incoming children in the foster care program.
Related UMass Chan news stories
UMass Chan Stuff-a-Cruiser event nets 3,500 pounds of food for local nonprofits
UMass Medical School Police collect gifts for children in need