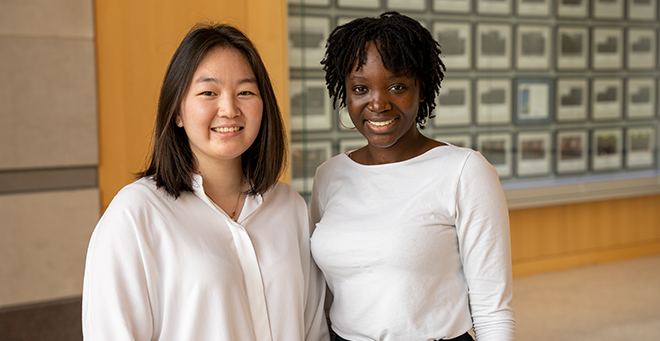 Haruna Choijilsuren and Katherine Oduguwa are high-achieving college undergraduates interested in careers in medicine and science who took part in the Summer Undergraduate Research Program at UMass Chan Medical School. Along with 30 other highly qualified college juniors and seniors from across the United States and Puerto Rico, they spent 10 weeks immersed in the cutting-edge laboratories of UMass Chan investigators.
First interested in medicine at age 5 when she felt sad because her grandfather with diabetes couldn't eat candy and she wanted to cure him, Mongolia native Choijilsuren hopes to someday return to the country as a physician and medical educator. She is a rising senior at Johns Hopkins University majoring in molecular and cellular biology, medicine, science and the humanities.
"Few Mongolians are in such positions as I am today. My hope is to get the best training and experience possible so I can teach the next generation of scientists and physicians," Choijilsuren said. "I would like Mongolia and other developing countries to have the same resources, groundbreaking technology and advances as developed countries."
Oduguwa has already participated in basic scientific research in wet labs as a rising senior majoring in biology at Howard University and has seen health care in action as an emergency medical technician. She said seeing patients with opioid addiction contributed to her interest in brain research.
"It was difficult to see people in pain and not know what to do about it. That has led to both my scientific and clinical interests in pain," she said. "I want to be an emergency physician and research ways to improve how we quantify and treat pain. I've also become interested in neurophysiology of pain and opioid addiction."
Now in its 30th year, the Summer Undergraduate Research Program is designed to diversify the pool of biomedical researchers by providing structured, hands-on laboratory research experiences to undergraduate students, especially those from backgrounds underrepresented in the field, or who are economically or educationally disadvantaged. The program provides participants with an immersion in real world research, in which they learn together in classes and lectures and conduct experiments using state-of-the-art equipment and techniques in laboratories across campus. Each student is paired with a principal investigator who serves as mentor, role model and advisor.
Summer undergraduate researchers receive a $4,000 stipend. Travel and housing are paid for and arranged by the program with transportation provided to and from campus.
Oduguwa conducted research with human subjects for the first time under the direction of Elise Stevens, PhD, assistant professor of population & quantitative health sciences in the Division of Preventative and Behavioral Medicine. Dr. Stevens is identifying marketing techniques that promote the use of unhealthy products, such as tobacco, and developing health messages aimed at reducing risk behaviors.
"I was surprised at how much I enjoyed the human subjects training. It has made me really seriously consider being on an institutional research board," Oduguwa said. "It's something I want to do because I see so much importance in protecting human subjects."
Choijilsuren worked in the lab of Gregory Pazour, PhD, professor of molecular medicine and an expert in cilia function and assembly who was the first to draw a link between cilia dysfunction and polycystic kidney disease.
"I've found my interactions with my lab members really meaningful," said Choijilsuren. "They've taught me a lot not just about the science, but about different aspects of problem solving, critical thinking and the skills that are going to be useful for me, no matter what I do. It's been exciting walking in every single day to learn about so many different things."
The Summer Undergraduate Research Opportunity is co-led by Brian Lewis, PhD, the George F. Booth Chair in the Basic Sciences, professor of molecular, cell & cancer biology, and assistant vice provost for outreach and recruitment, and Pranoti Mandrekar, PhD, professor of medicine. The National Institutes of Health and the UMass Chan Office of the Provost provide financial support.
Cellular immunologist Cherié L. Butts, PhD, medical director for research and development at Biogen Inc., delivered the keynote address at closing ceremonies on Aug. 5. Dr. Butts shared her passion for biomedical research and helping others of all backgrounds achieve success in careers in science. Each program graduate was presented with a certificate of completion, with several honored for their research posters.
Summer Undergraduate Research Program Class of 2022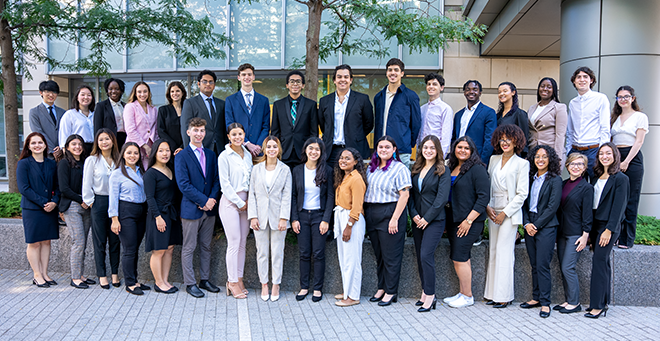 Sarah D. Arrieta, University of Maryland Baltimore County '23
Natalie M. Baez Torres, Universidad Ana G. Méndez Cupey '24
Grace Carter, Northeastern University '23
Haruna B. Choijilsuren, Johns Hopkins University '23
John A. Florian-Alsina, University of Puerto Rico Rio Piedras '23
Ariana I. Ginard Pacheco, University of Puerto Rico '23
Jake A. Glicksman, Boston College '24
Jo Gualpa, University of California Berkeley '23
Taonga Horace, UMass Dartmouth '23
Ryan Kennedy, College of the Holy Cross '24
Serli Khanbabaei, California State University Long Beach '23
Joshua Kim, University of North Carolina Chapel Hill '23
Jessica Kwong, Boston University '24
Hannah E. Leyva, University of Rochester '23
Yanari A. Llanos-Torres, University of Puerto Rico Mayaguez '24
Adrian Marquez Hernandez, University of Puerto Rico Cayey '24
Sebastian A. Nieves-Lozano, University of Puerto Rico '23
Katherine I. Oduguwa, Howard University '23
Stephanie M. Ortiz-Espaillat, University of Puerto Rico Rio Piedras '24
Harsh R. Patel, Massachusetts College of Pharmacy and Health Science '24
Yamilett Y. Pineda, UMass Lowell '23
Sydney Porto, Harvey Mudd College '24
Sophia M. Puertas, Wellesley College '23
Kasidy Quiles, University of Connecticut '23
Krystal A. Quirindongo Ortiz, University of Puerto Rico Mayaguez '24
Wilma V. Richiez Mateo, University of Puerto Rico '23
Andres Rodriguez Cardinas, Trinity College '24
Jack N. Schob, Lehigh University '24
Ava Silverman, Smith College '24
Kenneth A. Walker, Pennsylvania State University '24
Olivia S. Wilson, Scripps College '24
Shuah Yu, Brown University '24
Gaia Yun, Dartmouth College '25