Roger J. Davis, PhD, FRS, and the Cryo-EM Core facility at UMass Medical School have received $2.8 million from the Massachusetts Life Sciences Center (MLSC) for the purchase of an advanced Glacios cryo-electron microscope from Thermo Fisher Scientific. The MLSC is an economic development investment agency dedicated to supporting the growth and development of the life sciences in Massachusetts.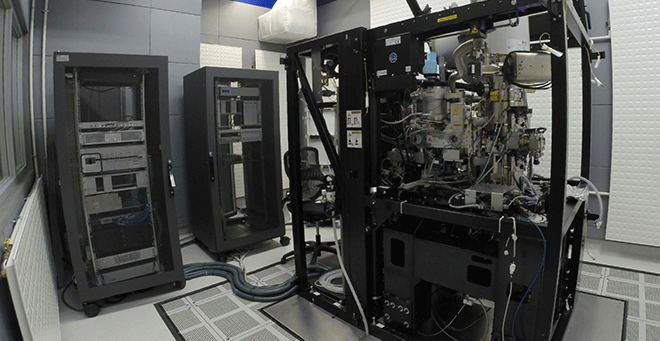 "We are very excited about the continued support from the Massachusetts Life Sciences Center for the purchase of a state-of-the-art instrument for the UMMS Cryo-EM Core facility," said Dr. Davis, the H. Arthur Smith Chair in Cancer Research and chair and professor of molecular medicine. "The new Glacios cryo-electron microscope, Selectris energy filter and Falcon 4 detector will dramatically speed workflows in the Cryo-EM Core for both tomography studies and molecular structure determinations using single particle methods."
Celia Schiffer, PhD, the Gladys Smith Martin Chair in Oncology, professor of biochemistry & molecular pharmacology, and director of the Institute for Drug Resistance, and Andrei Korostelev, PhD, professor of RNA therapeutics at UMass Medical School, are co-applicants on the MLSC grant. The Cryo-EM Core is being run under the direction of physicist and materials scientist Chen Xu, PhD, professor of biochemistry & molecular biology, who is internationally recognized for his cryo-EM expertise.
Structural biology is the foundation of a significant portion of biomedical research, opening windows into biology and structure-based drug design, said Davis. The Cryo-EM Core at UMass Medical School was established in 2015, in part with $5 million in funding from the MLSC, as well as $4 million from the Howard Hughes Medical Institute. Demand for the facility, which currently houses the Titan Krios and the Talos-Arctica cryo-EM systems, has been overwhelming, said Davis.
The Cryo-EM Core has supported data collection for approximately 30 biotech/pharma companies and 100 academic laboratories, 85 percent of which are from Massachusetts. The addition of the state-of-the-art Thermo Fisher Scientific Glacios cryo-electron microscope with Falcon 4 detector and the newly developed Selectris filter will take the facility to the next level, said Davis, allowing it to meet growing demand and transform biomedical research in Massachusetts.
"Visualization of the molecular basis of biology and disease will permit us to battle deadly diseases, such as COVID-19, that plague our society," said Davis.
The grant comes from the MLSC capital programming portfolio, specifically its Research Infrastructure, Novel Therapeutics Delivery and Bits to Bytes programs. The agency, in total, is investing $18 million in 14 capital funding projects designed to advance life sciences research and development and innovations in therapeutic delivery, and unlocking the potential of data science to answer pressing life sciences questions.
"These strategic investments will enable our commonwealth to leverage emerging research and innovative infrastructure to accelerate growth and success at all levels of our ecosystem," said MLSC President and CEO Kenneth Turner. "In order to sustain our global leadership in the life sciences, we must continue to catalyze industry and academia collaboration to advance the life sciences and our broader health care system."
Related stories on UMassMed News:
UMass Medical School researchers visualize new states of ribosome translation with cryo-EM
Breakthrough technology enables UMass Medical School scientists to view gene translation in action
Massachusetts Facility for High-Resolution Cryo-Electron Microscopy opening at UMMS
Massachusetts Life Sciences Center announces $5M award to UMMS for Cryo-Electron Microscope