Many Worcester area residents have questions about the COVID-19 vaccines and some have reservations about getting them. They are eager for information from sources they trust. UMass Medical School is responding to concerns through an ongoing series of public listening and learning events to acknowledge the concerns of local community members and address vaccine hesitancy with understanding, honesty and transparency.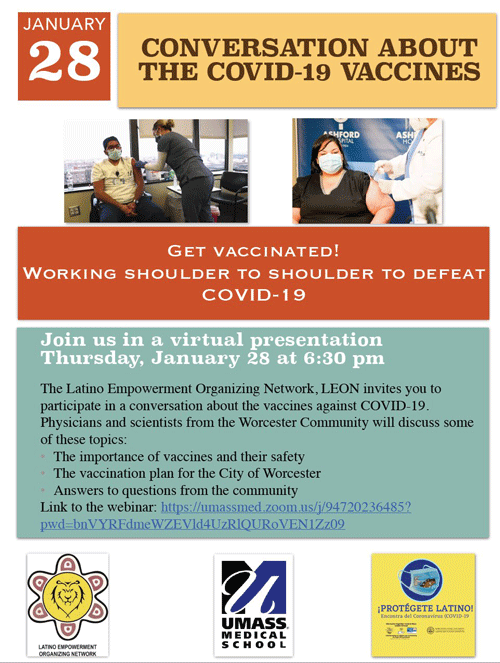 The next event organized by the Medical School in collaboration with the Worcester Department of Health and Human Services takes place on Thursday, Jan. 28, at 6:30 p.m. The webinar is hosted by the Medical School, the Worcester Latino Empowerment Organizing Network and Protégete Latino en Contra del Coronavirus. It follows a recent town hall meeting hosted by Black Families Together.
"Vaccine hesitancy is very real. We also know that in general, with very good reason, communities of color, particularly African American and Latino, because of historical and ongoing injustices, are more hesitant about the vaccine," said Stephenie Lemon, PhD, professor of population & quantitative health sciences, chief of the department's Division of Preventive and Behavioral Medicine and co-director of the UMass Chan Prevention Research Center at UMMS. "We are using a community-engaged collaborative approach with a variety of different organizations and groups throughout the city and greater Worcester to bring the expertise of physicians and scientists to the people to answer their questions and concerns."
The UMMS Office of the Chancellor along with the Departments of Population & Quantitative Health Sciences, Medicine, Family Medicine & Community Health, and Emergency Medicine are involved in the planning.
The virtual events are organized through outreach efforts in coordination with the Worcester Division of Public Health and members of the local health care community including African American and Latino clinicians and scientists. The approaches, which have varied in consultation with community hosts and leaders, include town halls, panel discussions and conversations. Questions are taken and answered in every setting.
Educational materials and messages in English and Spanish have been produced to disseminate and reinforce key facts about COVID vaccines, including the fact that they have been thoroughly vetted for safety in clinical trials, meaning vaccine recipients are not "guinea pigs;" the vaccine cannot cause COVID infections; and any side effects that can occur following vaccination are temporary and evidence that the vaccine is working to build immunity to the deadly virus.
"When those messages come from people that are trusted, from people who look like you, they go so much further," said Dr. Lemon. "The idea is to address issues around vaccine hesitancy head on and say we understand your concerns and they are valid, but here's why you can be confident about getting the vaccine."