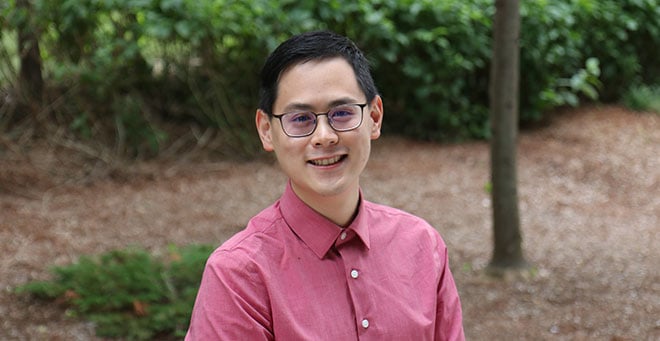 Kevin Gao, an MD/PhD candidate in the Medical Scientist Training Program, has received a Ruth L. Kirschstein National Research Service Award Individual Predoctoral Fellowship from the National Heart, Lung and Blood Institute at the National Institutes of Health. Gao, who is jointly mentored in the labs of Katherine Fitzgerald, PhD, and Ann Rothstein, PhD, will use the three-year, $112,400 grant to investigate the mechanisms by which B cells contribute to STING-associated vasculopathy with onset in infancy (SAVI), an autoinflammatory disease that presents with life-threatening lung fibrosis in pediatric patients. Ultimately, this work will help assess whether targeting B cells is a valid strategy for potential therapeutics.
"Kevin is an outstanding and gifted student at the bench," said Dr. Fitzgerald, the Worcester Foundation Chair in Biomedical Sciences, professor and vice chair of medicine and director of the Program in Innate Immunity. "SAVI is a very rare disorder that causes lung failure in infants. The molecular basis for the disease and the role the innate immune system may have in activating B cells is a whole area that has yet to be explored."
The goal of the Kirschstein-NRSA program is to enhance integrated research and clinical training of promising predoctoral students who are matriculated in a combined or dual-doctoral degree training program and who intend careers as physician-scientists.
"Being an MD/PhD and having both a basic science and clinical background is an important component of this project," said Dr. Rothstein, professor of medicine. "Kevin is so excited about the scientific process and there's a real need for more physician-scientists in rheumatology. Having that dual perspective is a real advantage when it comes to defining mechanisms responsible for disease phenotypes and identifying novel therapeutic strategies."
SAVI is a disorder involving abnormal inflammation throughout the body, especially in the skin, blood vessels and lungs. Inflammation normally occurs when the immune system senses "danger" signals—often coming from infection or injury. In response, local and circulating cells recruit and direct responses the site of injury or disease to limit both microbial invasion and then repair damaged tissues. However, excessive inflammation can harm the body's own cells and tissues. Mutations like SAVI can disrupt immune regulation leading to chronic inflammation in the absence of infection or injury. Understanding how the body harnesses and controls inflammation is critical to developing new therapies for chronic inflammatory illnesses.
Characterized by neonatal or infantile onset systemic inflammation and small vessel vasculopathy, SAVI results in severe skin, pulmonary and joint lesions. Disorders such as SAVI that result from abnormally increased inflammation are known as autoinflammatory diseases.
A mutation in the stimulator of interferon gene or STING causes SAVI. cGAS-STING is a DNA sensing pathway, which is tightly regulated to preserve immune system balance. Regulation of cGAS-STING ensures that the immune system discriminates between the body's own DNA, which may be present during replication or DNA repair, and possible pathogens such as virus or bacteria. When this regulation is disrupted, the immune system triggers inappropriate inflammatory responses. Constant activation of STING in SAVI patients causes damage to skin, lung and blood vessel cells.
Gao's research will investigate the potential role B cells, a component of the adaptive immune system responsible for making antibodies, play in the resulting lung fibrosis and scarring that happens because of the chronic inflammation and repair, caused by SAVI.
"The collaborative environment and biomedical infrastructure that UMass Medical School has built is a huge advantage for translational research," said Gao. "Kate and Ann have been wonderful mentors and collaborators. Being able to benefit from the synergy of their research and the connections between the molecular and genetic underpinnings of the innate immune systems with the knowledge about how cellular immune cells operate has been imperative to this grant being funded."