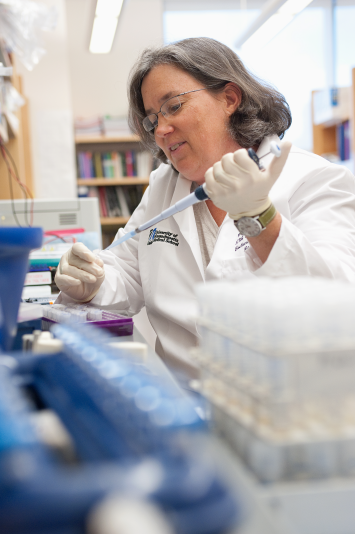 UMass Medical School is a Grand Challenges Explorations (GCE) winner, an initiative funded by the Bill & Melinda Gates Foundation. Melissa J. Moore, PhD, Howard Hughes Medical Institute Investigator and professor of biochemistry & molecular pharmacology, will pursue an innovative global health and development research project, titled "siRNA-based Therapeutics for Preeclampsia."

Grand Challenges Explorations grants fund scientists and researchers worldwide to explore ideas that can break the mold in how we solve persistent global health and development challenges. Dr. Moore's project is one of more than 85 Grand Challenges Explorations Round 6 grants announced on April 27 by the Bill & Melinda Gates Foundation.

"GCE winners are expanding the pipeline of ideas for serious global health and development challenges where creative thinking is most urgently needed. These grants are meant to spur on new discoveries that could ultimately save millions of lives," said Chris Wilson, director of Global Health Discovery at the Bill & Melinda Gates Foundation.

To receive funding, Moore and other Grand Challenges Explorations Round 6 winners demonstrated in a two-page online application a bold idea in one of five critical global heath and development topic areas: polio eradication, HIV, sanitation and family health technologies, and mobile health.

Preeclampsia is a leading cause of premature birth, complicating up to 10 percent of all pregnancies worldwide. The problem is especially pronounced in developing nations where access to advanced pre- and post-natal care is lacking. As a result, preeclampsia is a major contributor to maternal, fetal and neonatal mortality in underdeveloped countries and is estimated to cause more than 75,000 maternal and 500,000 infant deaths globally each year. Characteristics of preeclampsia include high blood pressure, abnormal accumulation of fluid beneath the skin and excess protein in the urine after the 20th week of pregnancy.

Preeclampsia is caused by excess levels of circulating anti-angiogenic proteins secreted into the mother's bloodstream by the placenta. Moore, a leading figure in RNA processing and metabolism, and her collaborator Ananth Karumanchi, MD, associate professor of medicine at Beth Israel Deaconess Hospital and Harvard Medical School, will explore the potential for a small interfering RNA (siRNA)-based therapy to inhibit production of the proteins responsible for causing preeclampsia. Because siRNAs are inexpensive to produce, stable and have long shelf lives, development of an siRNA-based therapeutic to neutralize the protein responsible for preeclampsia could be cost-effectively and easily administered throughout the world.

About Grand Challenges Explorations

Grand Challenges Explorations is a $100 million initiative funded by the Bill & Melinda Gates Foundation. Launched in 2008, Grand Challenge Explorations grants have already been awarded to nearly 500 researchers from more than 40 countries. The grant program is open to anyone from any discipline and from any organization. The initiative uses an agile, accelerated grant-making process with short two-page online applications and no preliminary data required. Initial grants of $100,000 are awarded two times a year. Successful projects have the opportunity to receive a follow-up grant of up to $1 million.