DSB April 2017 News Archive
Category: Marian Walhout
Aurian García-González, Marian Walhout, and colleagues publish study in Cell showing that bacteria modulate host chemotherapeutic drug responses
April 21, 2017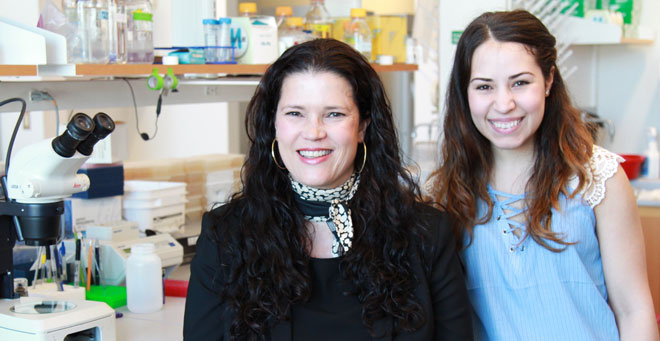 The bacteria residing in your digestive tract, or your gut microbiota, may play an important role in your ability to respond to chemotherapy drugs, according to a new study by scientists at UMass Medical School. Published in Cell, the study by Marian Walhout, PhD, and colleagues shows that when a common research model, the roundworm Caenorhabditis elegans, was fed a diet of E.coli bacteria, the worms were 100 times more sensitive to the chemotherapy drug floxuridine (FUDR) than worms who were fed different bacteria. FUDR is a commonly used drug to treat colorectal cancer.
Cancer doctors have long been puzzled by how dramatically patients with the same disease can respond differently to the same treatment—even in cases where identical twins have the same diagnosis. "Two twins, genetically identical, who have colorectal cancer could potentially respond very differently to the same treatment because of their microbiome," said Dr. Walhout, the Maroun Semaan Chair in Biomedical Research, professor of molecular medicine and co-director of the Program in Systems Biology. "If we can learn how bacteria affect the efficacy or toxicity of chemotherapies, it's not hard to imagine developing personalized medicine built on probiotics that could improve the clinical benefits of some cancer treatments."
Rob Brewster and colleagues publish a kinetic model of transcription that incorporates the interplay between transcription factor copy number and its binding sites in PLoS Computational Biology
April 17, 2017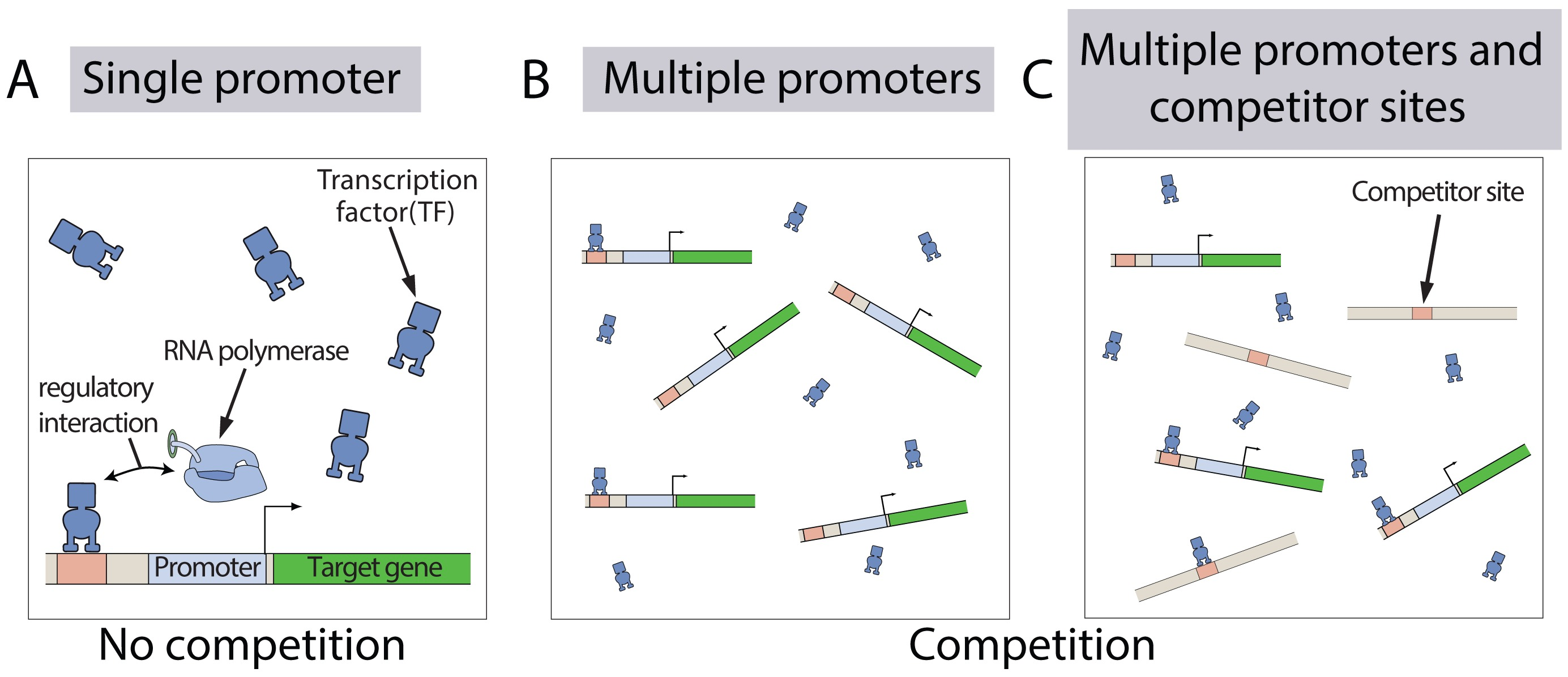 Gene expression is intrinsically a stochastic (noisy) process with important implications for cellular functions. Deciphering the underlying mechanisms of gene expression noise remains one of the key challenges of regulatory biology. Theoretical models of transcription often incorporate the kinetics of how transcription factors (TFs) interact with a single promoter to impact gene expression noise. However, inside single cells multiple identical gene copies as well as additional binding sites can compete for a limiting pool of TFs. Here we develop a simple kinetic model of transcription, which explicitly incorporates this interplay between TF copy number and its binding sites. We show that TF sharing enhances noise in mRNA distribution across an isogenic population of cells. Moreover, when a single gene copy shares its TFs with multiple competitor sites, the mRNA variance as a function of the mean remains unaltered by their presence. Hence, all the data for variance as a function of mean expression collapse onto a single master curve independent of the strength and number of competitor sites. However, this result does not hold true when the competition stems from multiple copies of the same gene. Therefore, although previous studies showed that the mean expression follows a universal master curve, our findings suggest that different scenarios of competition bear distinct signatures at the level of variance. Intriguingly, the introduction of competitor sites can transform a unimodal mRNA distribution into a multimodal distribution. These results demonstrate the impact of limited availability of TF resource on the regulation of noise in gene expression.
Marian Walhout appointed inaugural Maroun Semaan Chair in Biomedical Research
April 12, 2017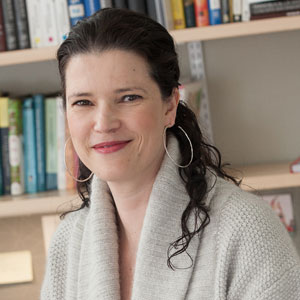 UMass Medical School will invest three faculty members into newly endowed chairs and three more to existing endowed chairs, according to a vote by the University of Massachusetts Board of Trustees at its April 12 meeting.
Marian Walhout, PhD, professor of molecular medicine and co-director of the Program in Systems Biology, has been appointed the inaugural recipient of The Maroun Semaan Chair in Biomedical Research. Dr. Walhout is a pioneer among those working to understand how genes are expressed on a system level, and how these complex biological networks adapt to various conditions. Her research, which combines large-scale data sets and uses computational modeling to unravel regulatory networks involved in metabolic and genetic development, has advanced the fundamental understanding of these systems and offers potentially new and innovative pathways to treat human disease.