Page Menu
MSWeight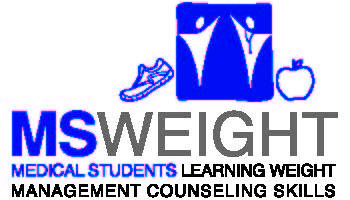 Reaching a healthy weight can be a challenge for about 70% of adults in the United States. People are looking for help, and many physicians would like to share guidance as part of their regular office visits.
What is the best way to train future physicians to counsel patients?
The Association of American Medical Colleges (AAMC) recommends that Weight Management Counseling be strongly emphasized during medical school. UMWPRC Faculty member Judith K. Ockene, PhD, MEd, MA and her colleagues are doing just that by testing a new training curriculum called MSWeight (Medical Students learning Weight management counseling skills). MSWeight is based upon research evidence, and uses a weight-management counseling approach that helps patients create a personal plan by exploring their beliefs, experiences and motivations. This approach is called the 5As (ask, assess, advise, assist, and arrange). Over the first three years of medical school, students participate in web-based training, role plays, and a web-encounter with a standardized patient who provides feedback. The last step is to partner with a physician in an Enhanced Clerkship, where they observe the physician using this approach to counsel their patients. The students then deliver counseling themselves to patients, and the physicians provide feedback to help the students strengthen their skills.

MSWeight is a randomized controlled trial. Medical students from four medical schools are being trained to deliver this counseling approach, and students from four other medical schools continue with their traditional education, which may or may not include weight management counseling. Results are compared at the end of the trial.
Through this study, the research team hopes to identify an effective training method so that future physicians can better counsel their patients to help them reach and maintain a healthy weight. This research study is funded by the National Cancer Institute.