Page Menu
Building Engagement
Student awards presented at annual

Martin Luther King Day observance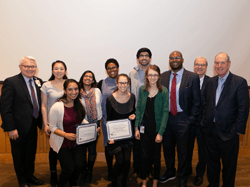 Recipients of the 2019 MLK Semester of Service Student Awards at UMass Chan Medical School will use the $500 awards to facilitate a student day of service to Worcester community organizations; maintain a STEM enrichment program for middle school students; and continue a program that assists young men of color who want to pursue careers in medicine.


Creative classes build health care curriculum bridges between cultures, help refugee youth from Burma adjust to new lives
UMass Chan and Tower Hill Botanic Garden partnership with Worcester Refugee Assistance Project to teach art, cooking and gardening.
A team of UMass Chan Medical School students has partnered with Tower Hill Botanic Garden and the Worcester Refugee Assistance Project to offer arts classes as social and cultural bridges for refugee youth from Burma now living in Worcester.