Page Menu
Laura Hallett, MD - Head of Quinsigamond House, House Mentor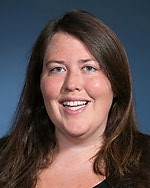 Dr. Laura Hallett grew up in Massachusetts. She attended Harvard University as an undergraduate, then completed medical school and internal medicine residency training at the University of Pittsburgh. Following residency, she completed a fellowship in medical education at Boston University and obtained her Master's degree in Education, while spending two years in clinical practice in the Boston VA Medical Center's Women's Health Clinic.
Dr. Hallett is a primary care physician at the Benedict Clinic and an Assistant Professor in the Department of Internal Medicine at UMass. Most of her clinical time is in outpatient clinic, but she spends 6 weeks per year attending on inpatient ward teams. She also loves volunteering at the Epworth Free Medical Program for uninsured and underinsured patients. In her role as medical educator, she co-directs the Primary Care Leadership Pathway for internal medicine residents interested in a career in general internal medicine, and co-directs the Internal Medicine residency program's ambulatory curriculum, in addition to directing residency electives in veteran health and medical education. She is core faculty for the IM Residency Program's new Primary Care Residency Track, launching in 2020, and is working with VA Central Western MA to expand residents' exposure to veteran health.
Dr. Hallett lives in Southborough. In her free time, she enjoys hiking and spending time outdoors, playing tennis, reading, and spending time with family and friends.