Page Menu
Heads Up for Recycling Signs
Date Posted: Thursday, October 01, 2015
New Recycling Signage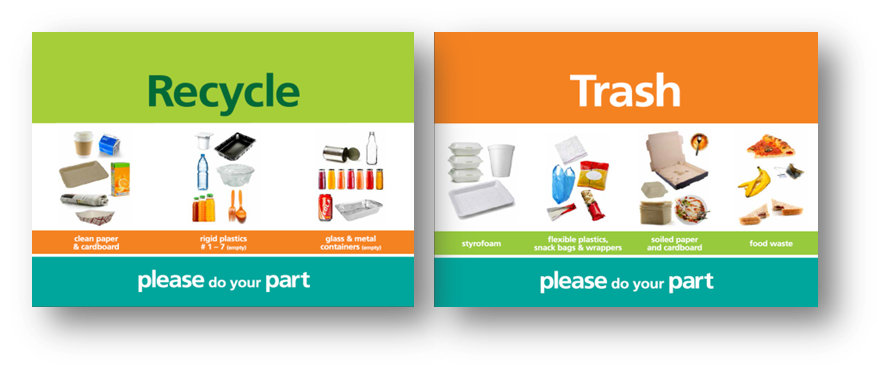 Be on the lookout for new recycling signs at the Medical School and in clinical areas of the University and Memorial campuses of the medical center. The new signage is customized for various functional areas, including cafeterias, offices, laboratories and clinical wings, to help people make the right choices when disposing of materials.
"With the new signage we're taking a more commonsense approach," said Suzanne Wood, sustainability and energy manager at UMMS. "Working together with our clinical partners, we hope the new visual reminders will increase recycling and divert a larger portion of the waste stream."
The new signs have photos of common items used on campus. More importantly, Wood noted, they are grouped in categories defined as either recyclable or trash. For example, as a rule "rigid plastics" like plastic cups or bottles are recyclable, but "flexible plastics" like bags or wrappers go in the trash.
"We can't put pictures of every possible item on these signs, so we're hoping people will pay attention to the categories to help them make good decisions when they have an item in hand that may not be displayed on the signs," Wood said.
For those who wish to have copies of the signs for reference, they can be downloaded as PDFs here:
Recycle for offices Recyle for cafeterias
Recycle for clinical areas Common trash