Page Menu
Paperless Contracting System Saves Time and Resources
A new electronic contract management system is rolling up big savings in resources and time needed to process the thousands of pages of documents required each year for the Medical School's myriad contracts and related correspondence.
"We are going paperless in every possible way. From procurement to pay, from initial bids to storing invoices," said Brian Girard, director of purchasing and accounts payable at UMMS.
In a typical year, UMMS processes about 500 contracts for products and services used by the campus community. An average contract has 15 pages and is executed in triplicate: one copy each for the vendor, the contracting school department and the UMMS Financial Services files. In addition to the contracts, the school must handle bid documents, summaries, invoices and other reports for the various contracts.
Previously, that meant moving a mountain of paper from place to place for reviews, edits and signatures then managing seemingly endless rows of filing cabinets. The new electronic cloud-based contract management system was launched in September of 2016 and after a year's worth of experience, Girard said his department has reduced paper consumption by some 60,000 sheets.
"In addition to saving paper, we are using less printer toner, saving on intercampus building transportation and external shipping costs with FedEx and UPS to get physical contracts signed and returned," Girard said. "Plus, everything is now stored electronically and is accessible instantly. No more getting up from the desk to go to the file cabinets."
Over the past year, Girard's team has conducted several training sessions for administrators across the medical school to get them proficient on the new system. "It's been very well embraced across the school," Girard said. "And the system actually reduces the workload of the individual departments, so people are happy about that."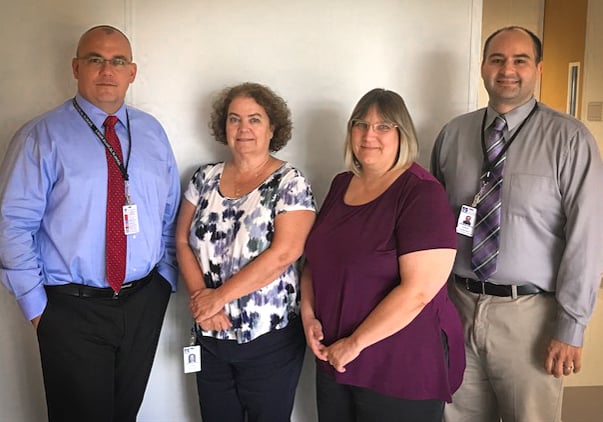 Girard projects the new electronic contracting system will reduce his department's supply budget by 25 percent this year. Furthermore, the new system drastically reduces the processing time for contracts, which is to the benefit of all involved, he said.
"What could take a month or more using the old paper process, now can be done in 24 to 72 hours from first signature to last," Girard said.
Photos: UMMS Purchasing team, from left,
Brian Girard, Bonnie Mathias, Susan Cone and Michael Boyle. (Not pictured Julie Merrill-Wisell.) Above, Bonnie Mathias uses the new system.