Page Menu
New five-year Sustainability and Climate Action Plan released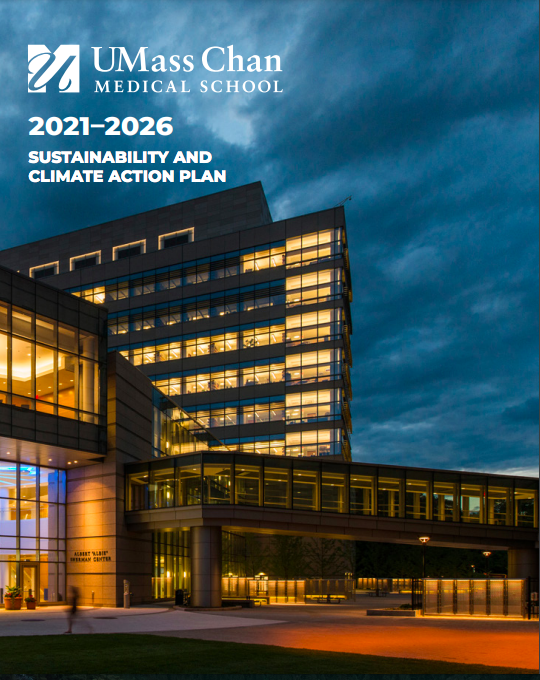 With ambitious goals and specific initiatives to make progress toward those goals, the UMass Chan Medical School Sustainability and Climate Action Plan for 2021-2026 is now complete and ready for implementation.
The five-year plan is the culmination of a lengthy public process that was led by the UMass Chan facilities team and included broad representation from campus constituencies.
"This plan builds on our achievements and creates opportunities for the campus to be a model for sustainable operations to address climate change and work to integrate sustainability into our 'business as usual' operations," wrote John C. Lindstedt, CPA, executive vice chancellor for administration and finance at UMass Chan, in the cover letter to the report. "I am excited about the potential of this plan. It highlights areas where we can invest in our operations to support the commonwealth's ambitious climate action targets," he wrote.
The planning process began in 2019 with a survey to establish a baseline of the community's awareness and concerns about sustainability and climate change. Several public meetings followed, after which a committee was formed with more than 40 people from various departments on campus and students, which worked for nearly a year to develop the five-year plan.
"A lot of work went into this plan, from a lot of people on campus who are sincerely committed to addressing climate change head-on by taking action locally," said Michelle Smith, UMass Chan energy and sustainability engineer, who joined the facilities group this spring. "This plan is thoughtful and realistic. I was pleased to help bring it to completion and now look forward to leading the implementation."
The plan has four areas of focus:
Transportation
Buildings and energy
Grounds and water management
Materials and resource management
Each focus area has a schedule of specific initiatives to foster progress toward the five-year goals. For example, on transportation, UMass Chan is now committed to reducing emissions of the vehicles it uses on campus by 50 percent. The community is also challenged to reduce emissions from commuting to campus. As a research-intensive campus with a clinical component, energy needs are significant, so the plan calls for continued implementation of an energy-use metering and validation program for specific buildings, as well as to increase energy conservation and recovery in all facilities. Regarding materials and resource management, the campus is committed to reducing the solid waste it generates by 20 percent.
"The planning committee invested a lot of time and energy, and continued their work virtually through the pandemic. Now it's up to all of us in the UMass Chan community to support these important initiatives," said Suzanne Wood, associate director of sustainability and campus services. "Reducing our community's impact on the environment and becoming a more sustainable institution requires everyone's active participation."
To help guide the planning process, UMass Chan collaborated with GreenerU, a consulting group with a mission to help higher education and health care organizations mitigate the impacts of climate change. GreenerU supports institutions in the development and implementation of climate action plans that save energy and reduce greenhouse gas emissions.