Page Menu
T. H. Chan School of Medicine Graduates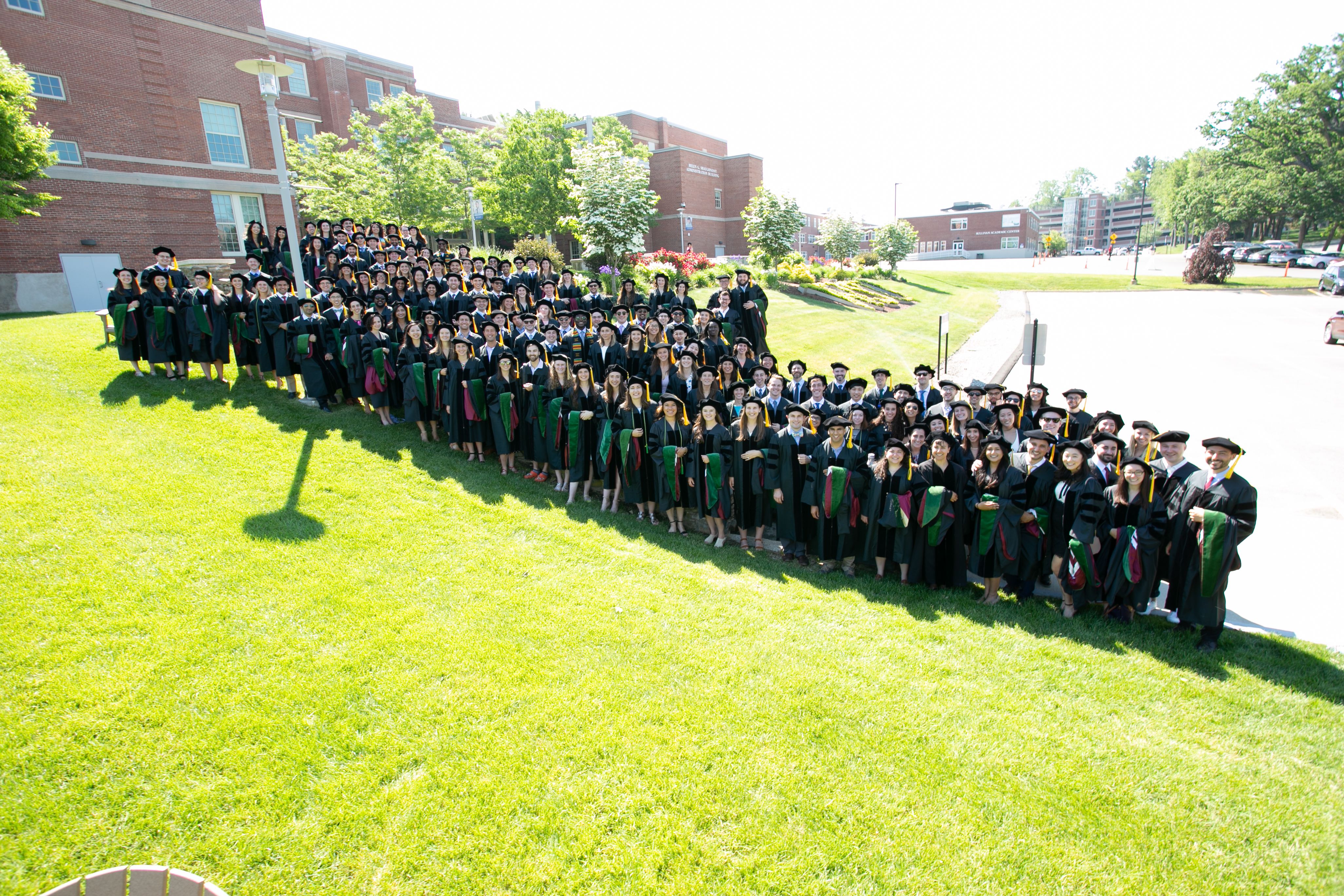 UMass Chan Medical School Family Participation Policy
The University allows for graduates that have a parent or family member who is currently on the faculty of the University of Massachusetts Chan Medical School participate in the ceremony with their graduate.
Family hooders are required to attend a rehearsal, wear regalia and be seated on the stage during the ceremony.
If you would like to see if you qualify please contact the Office of University Events.
Certification
The graduation certification process will be conducted virtually. In order to graduate, you must be CERTIFIED by the Registrar's Office as having completed all of the necessary requirements for the awarding of the MD degree, including any outstanding administrative responsibilities. Certification for the graduating Class of 2022 will be held May 30 – June 3, 2022. Students with outstanding fees or fines (i.e., tuition, loans, library books, parking fees or tickets) may not be certified to graduate.
Please check your academic record to make sure it is correct. The Registrar's office will communicate with various administrative offices to ensure that you do not have any outstanding fee/fines. All financial obligations must be settled before you are cleared for graduation.
Permission of the Associate Dean for Student Affairs is required for early certification for graduation. Students are responsible for completing all certification requirements and obtaining signatures. Students with early certification are still subject to university policies and procedures regarding graduation (e.g., diplomas may be held for non-payment of fines incurred after completing early certification).
If you are not certified by Friday, June 3, 2022, you will NOT receive a diploma at Commencement. If you need further information, please contact the Registrar's Office.
Financial Aid Exit Interviews
All students with a Learning Contract or any student loan debt are required to attend an exit interview with staff in the Financial Aid Office. An email will be sent out from the Financial Aid Office listing dates and times. Please make certain to schedule and attend yours.
Lockers
Please remember to clean out your locker by June 4, 2022. Anything left in the locker will be "recycled."
Invitations and Tickets
An email containing a registration link will be sent to all Class of 2022 graduates on Wednesday, April 20. Upon receipt, graduates must register in EventBrite using the link and then may forward the email to family and friends they wish to invite to attend the Commencement ceremony in person. There is no limit to the number of guests that graduates may invite; however, each guest must complete the online registration.
Please note that in support of campus sustainability at UMass Chan, printed Commencement invitations will no longer be distributed. Any questions pertaining to online registration may be directed to the Office of University Events.
Accessible Seating
If any of your guests use a wheelchair or walker, need a signer, have an assistance animal or need other special consideration, reserved seating for handicapped guests and three companions is available. Please notify Michele DeSeve as soon as possible, and we will do our best to accommodate their needs. Accessible seating will be held until 11:35 a.m., at which time unoccupied seats will be released for open seating.
Regalia
Ordering
All degree candidates go to the UMass Chan Medical page at jostens.com to order regalia
Click on the "Graduation Regalia" link
Select T.H. Chan School of Medicine
Enter height, hat size and degree/field of study
MD/PhD will log in through GSBS page
Websites open: Friday, March 18, 2022 (Match Day) and close Friday, April 18, 2022
Distribution
Regalia will be distributed from the Office of Student Life suite (S1-400) on Tuesday, May 31, Wednesday, June 1, and Thursday, June 2 from 9:30 a.m to 4:00 p.m.
Returns
Caps and gowns must be returned in the original bag to the Drop Off Station in the Medical School Lobby ( Outside the old bookstore), clearly marked with your name, no later than 6:00 pm on Commencement Day. The hood and tassel that will be provided for the ceremony is yours to keep.
Click the banner below to order your regalia!

Awards Ceremony / Alumni Breakfast
The Alumni Association is pleased to honor you at their annual Alumni Breakfast on Friday, June 3, 2022 at 9:00 am in the Albert Sherman Center Multi-Purpose Room. Outstanding Medical Educator and student awards will be presented at this event.
Photos and Video
Your class picture will be taken on Friday, June 3, 2022, on the Albert Sherman Center terrace following the SOM Alumni Awards Breakfast (rain site: LRB lobby). You must wear your regalia (cap, gown and hood) for the picture. House pictures will be taken immediately after the class picture in your respective learning community house.
A video recording of the entire Commencement ceremony will be available. You may stream live, (http://dv2.discovervideo.com/play/?id=45285si&player=172&type=flash) as well as view the recording after the ceremony.
Hometown Publicity
If you wish to place a graduation announcement in your hometown newspaper, a suggested format is provided here. Amend it to convey all the appropriate personal information.