Page Menu
Global Surgery

In a world where the growing burden of surgical disease comprises a significant proportion of global morbidity and mortality, an estimated five billion people still lack equitable access to safe, timely, and affordable surgical and anesthesia care (Meara JG, Leather AJM, Hagander L, et al. Global Surgery 2030: Evidence and solutions for achieving health, welfare, and economic development. Lancet. 2015; 6736(15):1-56). The UMass Medical School Department of Surgery is committed to supporting and advocating for universal access to surgical care. Our strategy focuses on engagement and education, collaborative research and supporting sustainable care delivery through capacity building.
Engagement and Education
The Department of Surgery supports the engagement and education of our residents and faculty in the field of academic global surgery. Residents with an interest in the field are encouraged to participate in national and international organizations, committees and conferences dedicated to global surgery. Recent residents have also been supported in pursuing Master of Public Health degrees through the UMass Amherst School of Public Health and Health Sciences, as described in our Academic Development Time page.
Research
Collaborative global surgery research provides our residents with the opportunity to form multi-institutional partnerships, and the skills and experience to build a foundation for a meaningful career. Residents with this interest have the option to pursue a research period of two years between their PGY-2 and PGY-3 years (see our Academic Development Time page). Recent residents have opted to focus on global surgery during this time, with some pursuing positions at outside programs and some serving as the UMMS Department of Surgery Global Surgery Research Fellow. This funded position has allowed past residents to develop large-scale projects such as implementing a multi-center trauma registry in India; serve in leadership roles on national and international committees dedicated to global surgery; and pursue advanced degrees such as a Master of Public Health.
The Bednarz Global Scholars Program in Surgery at the
University of Massachusetts Medical School
Established by the Department of Surgery in 2016, the Bednarz Global Scholars Program in Surgery is a unique opportunity for residents to participate in the surgical care of patients internationally.
The Bednarz Endowment and Lectureship has been established in honor of the memory of Major Brian E. Bednarz, MD. In only a short time from his arrival in Worcester, Dr. Bednarz became an integral member of the community. As an attending surgeon he earned the respect and admiration of his colleagues both for his surgical skill and for his warmheartedness. This program, established in his name, is an opportunity to continue surgical education with a focus on the humanistic factors that form, define, and improve our approach in caring for our patients, colleagues, and communities.
The program enables research residents, PGY-3, and PGY-4 residents to attend one of two organized trips. Each year, two residents can attend the Haiti trip and two residents can attend the Honduras trip. These one-week experiences are financially supported by the Department of Surgery with the generous support of the Bednarz family endowment. Each experience is distinctly different. After the pandemic, there are plans to expand the opportunities to sites in sub-Saharan Africa.
Before traveling to Haiti or Honduras, residents learn to help coordinate the medical teams, mobilize resources and organize supplies for the trip. There are ample opportunities to develop educational curricula and outreach activities for the trips. During this preparation time, the residents define their vision for the mission, incorporating the values of humanism, philanthropy, sustainability of care, service and education. We hope these experiences help residents recognize the impact of their careers and lives.
Haiti: Hope in the Midst of Trial
(Espere nan mitan an nan tras in Haitian Creole)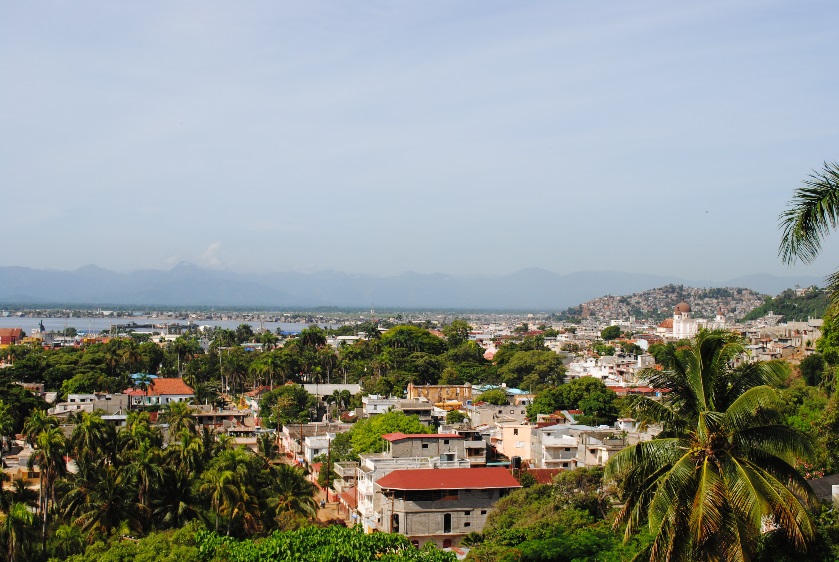 The people of Haiti are a resilient and strong people who despite the trials they have faced continue to see hope within themselves and one another, which is an amazing strength to witness as visitors.
The University of Massachusetts Department of Surgery has joined with Team Broken Earth to expand the program at the new site in Port-au-Prince, leading a multi-disciplinary team including surgeons, anesthesiologists, operating room nurses, surgical and anesthesia residents, and medical and pre-medical students in this inspiring and humanistic experience.
The week-long trip begins with triaging and scheduling for the operating rooms, then providing care and reassurance to patients, many who travel long distances for surgical care.
Rescue Mission Roatan

Roatan, Honduras
Rescue Mission Roatan leaves a long-lasting impression on the team of the determination and strength of the Honduran people, as well as teaching them the effort and organization that goes into leading and participating in a global surgery mission. This opportunity is led by Ulises Torres Cordero, MD, Assistant Professor of Surgery.
Dr. Torres has been successfully running Rescue Mission Roatan in Roatan, Honduras since 2011, leading a multidisciplinary team of surgeons, anesthesiologists, certified registered nurse anesthetists, operating room nurses, intensive care nurses, medical students and a paramedic. The team visits Hospital Roatan, a public hospital which is served by eleven physicians and is the only 24-hour emergency center on the surrounding islands.
The week-long mission begins with triaging and scheduling the operations for the rest of the week. There are two operating rooms with limited equipment which over the years has continuously received donations from the teams to support the sustainability and quality of care Hospital Roatan can provide. This support has doubled the hospital's operating capacity.
Other activities and educational experiences include teaching Advanced Trauma Life Support and other simulations for hospital staff; providing postoperative care; and coordinating and overseeing small group exercises.