Page Menu
Academic Development Time
Residents are encouraged to participate in ongoing research activities, whether their ultimate career goals are clinical, academic, or a combination of both. For those considering an academic career, two research years are included in their residency program, with 3-4 residents per year opting to pursue this track. The two research years are taken between the PGY-2 and PGY-3 years.
The wide variety of research projects available ensures that a resident seeking research experience will be able to find a project which will match with his or her specialty interest. In addition, faculty research expertise contributes current knowledge and basic science information to the general training program, thereby enriching and complementing the resident's experience. Residents have the opportunity to perform their research activities at our campus or to pursue research positions at outside institutions.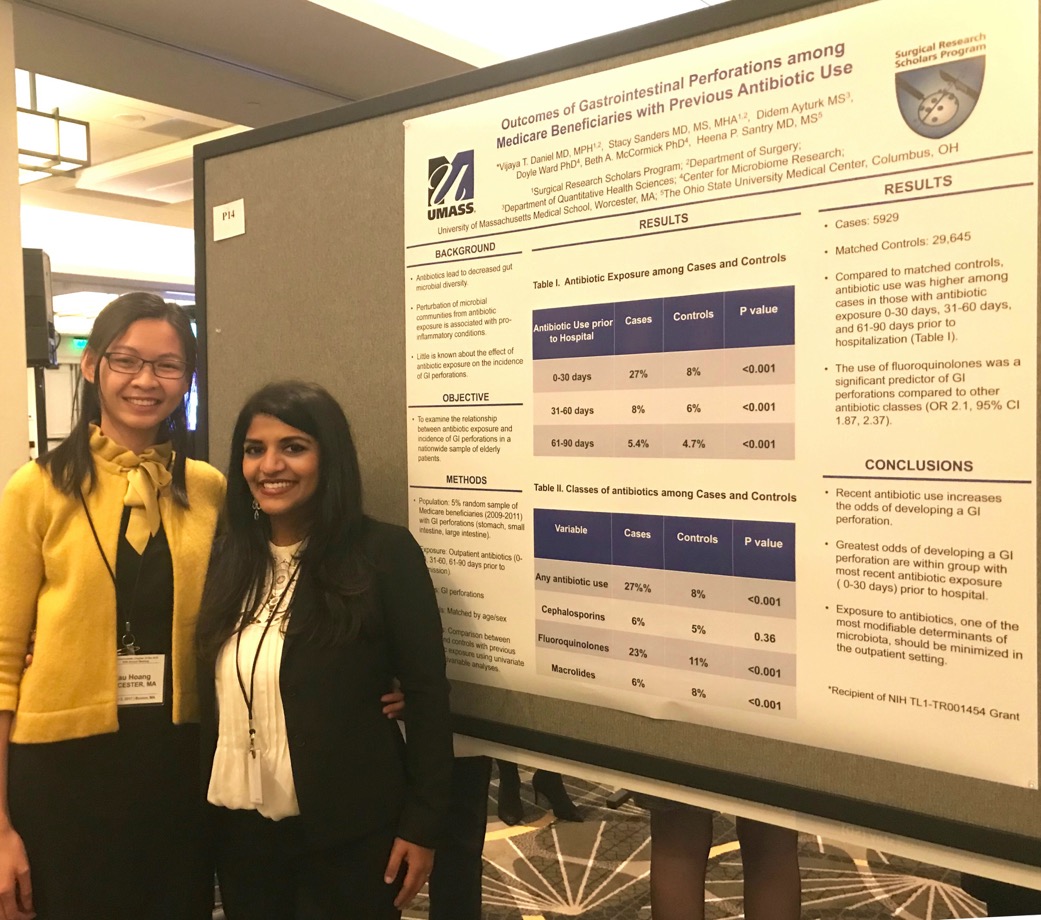 Residents who opt for formal research training are supported either by a competitive award from the Division of Surgical Research, by outside fellowships, or by the individual faculty member's research funds. Residents interested in research should select a mentor and submit a proposal detailing their proposed research experience by the middle of the PGY-2 year. It is the expectation that each resident will apply for outside funding.
The majority of the residents going out on research pursue additional educational degrees – whether that be the Master of Science in Clinical Investigation through the Graduate School of Biomedical Sciences or through Masters of Business Administration in coordination with the Isenberg School of Management at the University of Massachusetts Amherst campus.
For those residents interested in clinical outcomes research and who remain at the University of Massachusetts for their academic development time, they have the option of taking part in the Surgical Research Scholars (SRS) program, which provides residents an augmented research curriculum including research in progress meetings and journal clubs. This comprehensive program provides the infrastructure to support the work residents are doing with additional funding and mentorship.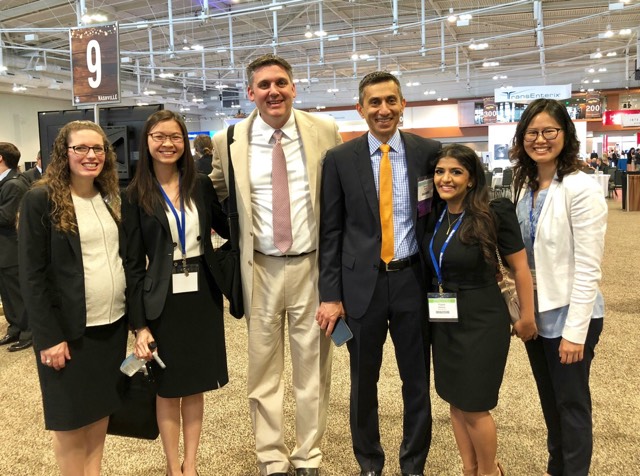 Our research residents continue to compile admirable records of national presentations, peer-reviewed publications, and academic research awards. The emphasis on training academic surgeons at UMMHC will continue to heighten in the years to come.
UMass Memorial received annual research funding awards exceeding $280 million in 2016 which places us in the top 2% of all NIH-funded institutions. Additionally, UMass Memorial was ranked as the most entrepreneurial medical school in the US with $520 million per year in entrepreneurial and miscellaneous revenue, averaged over the last 5 years.
Current Research Residents
---
Kaitlan Ahrens, MD
Kaitlan is pursuing her interests in transplant surgery as a Research Fellow at Massachusetts General Hospital. She is working in the laboratory of Dr. Joren Madsen, MD, DPhil, Director of MGH Transplant Center and Co-Director of Center for Transplantation Science. Her research will focus on investigating mechanisms of tolerance of organ transplantation in non-human primates. She will analyze and present data, design and perform experiments, and prepare grants and manuscripts. Kaitlan will gain experience in large animal surgical care, clinical laboratory diagnostics, and cellular and molecular assays.
Vijaya Daniel, MD, MPH
Vijaya is a UMass Surgical Research Scholar (2016-2018) and NIH TL1 Grant Awardee through UMMS Center for Clinical and Translational Science. Her focus is to identify the role of intestinal microbiome on outcomes after emergency surgery for gastrointestinal perforations using both prospective translational research methods in conjunction with large database outcomes analyses. Her lead mentors are Heena Santry, MD, UMass Associate Professor of Surgery and Quantitative Health Sciences, and Beth McCormick, PhD, Founder and Director of UMass Center for Microbiome Research.
Ryan Hendrix, MD
Ryan is a Surgical Research Scholar at the University of Massachusetts Medical School (UMMS) performing Clinical Outcomes Research within the Division of Surgical Oncology. Utilizing clinical registries and national administrative databases (ACS NSQIP), he will address questions related to high risk gastrointestinal cancers, specifically hepatobiliary, pancreatic, peritoneal and gastric malignancies. Through the UMMS Avatar Program, he will participate in translational studies leveraging existing humanized mouse models for the study of local tumor immunomodulation. Concurrently, he will obtain a Master's of Science degree in Clinical Investigation. His mentorship team consists of Jennifer LaFemina, MD, Program Director, Giles Whalen, MD, Chief of Surgical Oncology and Vice Chair of Surgery, and Dale Greiner, PhD, Berman Foundation Chair in Biomedical Research.
Robert McLoughlin, MD
Robert is working with Drs. Aidlen, Cleary, Hirsh and Nazarey on a variety of Pediatric Surgery topics. His projects include analyzing injury patterns related to snowboarding and skiing, pediatric trauma and injury prevention as well as working with recent research resident Jon Green on a pediatric obesity project. He will be working towards a Master of Science in Clinical Investigation offered by the University of Massachusetts Graduate School of Biomedical Sciences
David Meyer, MD
David is working as a research fellow with the Division of Colon and Rectal Surgery, Justin Maykel,MD (division chief), Karim Alavi, MD, MPH, Jennifer Davids, MD, and Paul Sturrock, MD. His research focuses on outcomes and quality improvement related to colorectal disease. As part of the Surgical Research Scholars program, he will be working towards a Master of Science in Clinical Investigation (MSCI) offered by the University of Massachusetts Graduate School of Biomedical Sciences.
Niti Shahi, MD
Niti is a surgical research fellow at Children's Colorado working with Dr. Steven Moulton in the field of pediatric surgery. Her research will focus on pediatric burns, pediatric trauma, and quality improvement/outcomes. She also plans to do further research in the use of CRI (compensatory reserve index) to better evaluate cardiovascular status to guide resuscitation and management in a pediatric population.
Christopher Strader, MD
Christopher is working as a Paul Farmer Global Surgery and Social Change fellow for the next two years. Additionally, Christopher is working towards his Masters of Public Health at Harvard School of Public Health. His previous global health experience includes work with emergency medicine and diabetes education in the Democratic Republic of Congo. While with PGSSC, Chris is looking forward to becoming involved in projects focused on delivery of care and obstacles to delivering that care with a regional emphasis on Sub-Saharan Africa.


Recent Research Residents
---
Chau Hoang, MD
Chau was the inaugural Mark Kusek Colorectal Cancer Research Fellow, collaborating with the Division of Colon and Rectal Surgery, under Justin Maykel, MD (Division Chief), Jennifer Davids, MD and Karim Alavi, MD, MPH. Her research focused on outcomes and quality improvement research projects centering on pre and post-resection management of colorectal diseases. As part of the Surgical Research Scholars program, she pursued the Master of Science Degree Program in Clinical Investigation (MSCI) at UMass, which provides her with the necessary tools to succeed in her research endeavors.
Ashley Russo, MD
Ashley worked at Memorial Sloan Kettering Cancer Center as the Surgical Outcomes Research Fellow under Dr. Vivian Strong. She worked with the Memorial Sloan Kettering secondary surgical events database, NSQIP data, and patient reported outcomes to collect patient data. Together with multiple other departments outside of surgery, including the departments of rehabilitation services and geriatrics, she spent her research time engaging in multidisciplinary collaborations to investigate and elucidate ways to improve patients' postoperative outcomes.
Stacy Sanders, MD, MS, MHA
Stacy was the Department of Surgery's first Surgical Research Scholar in Quality and Patient Safety. In her role, Stacy applied the knowledge and skills that she previously acquired in her role as a hospital administrator to new research initiatives which directly impact patients in the clinical setting. She worked with large databases (NSQIP, TQIP, UHC) and fellow practicing clinicians to identify opportunities to improve the delivery of care within the Department of Surgery. Her work used evidence-based medicine and lean management principles to enhance the processes by which care is delivered. She participated in the UMass Quality Scholars program where she focused on projects that reduce the rate of hospital-acquired venous thromboembolism (HA-VTE). She was mentored by Dr. Demetrius Litwin, Dr. Heena Santry, and Dr. Fred Anderson.