Page Menu
MHE & YOU
About Us

The Mental Health Experienced & Years Of Understanding (MHE &YOU) Advisory Council is the mental health consumer advisory council for the Implementation Science and Practice Advances Research Center (iSPARC) at the University of Massachusetts Medical School.
MHE & YOU offers the expertise of persons with lived mental health experience to inform and improve the quality of iSPARC research, technical assistance, and dissemination activities. We participate in mental health conferences and related events to assist with the dissemination of iSPARC research findings, products, and more.
One of our most visible efforts is the annual "May is Mental Health Awareness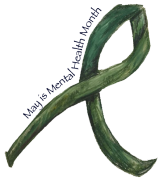 Month" video campaign, which is used to bring awareness to a chosen theme specific to mental health issues. In the past two years we have run an art contest for "May is Mental Health Awareness Month". Each year we chose a theme and then received artwork, poetry, and pictures from community members that demonstrated what the theme meant to them. You can see the artwork and videos on our website.
Who we are:
| | |
| --- | --- |
| | Mary Quill is the Chair of the MHE&YOU Advisory Committee and a Research Assistant at iSPARC. Mary's interest in mental health comes from her own experiences with depression and anxiety. Through MHE&YOU she gets to use social media to share stories and learn more about mental health. She enjoys editing videos and using her art and design background. |
| | Dee Logan is a Project Associate at iSPARC. She was part of the team that ran the annual statewide DMH Consumer and Family Member Satisfaction Survey that was conducted through iSPARC. Dee is part of the Communications team at iSPARC that works to disseminate the Center's work to different audiences. She has been supporting MHE & YOU Advisory Council activities for the past 3 years. |
Contact Us