Page Menu
Stakeholder Engagement Program (SEP)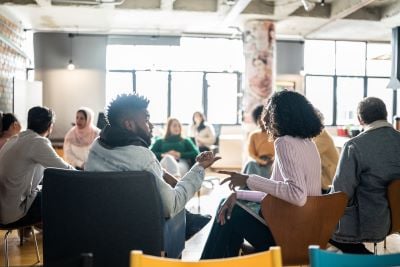 The Stakeholder Engagement Program supports a culture of authentic engagement with stakeholders as partners in iSPARC activities. This Program ensures the use of participatory action research methods and the PCORI engagement rubric. These methods ensure that end-user partners, especially underrepresented racial, cultural, and linguistic groups, are collaborators in the process of identifying problems to be addressed and translating evidence-based solutions into real-world settings.
The mission of the Stakeholder Engagement Program at iSPARC is to lead the mental health research community and beyond in working in partnership with individuals with lived mental health experience, their families, and the agencies that serve them. They provide support for stakeholder advisory boards and consultation regarding the level of engagement in new and ongoing research projects.
Major Accomplishments:
The SEP established an advisory board of adults with lived experience of mental health conditions, named weSPARC Insight. The advisory board meets on a monthly basis to provide input on iSPARC research projects and to develop original dissemination products.
The SEP has set up a system to annually assess the level of stakeholder engagement and participatory methods across all ongoing iSPARC research studies. We collate the data and regularly feed it back to the Center, along with education on how to infuse stakeholder engagement throughout a study's life cycle.
To support stakeholder engagement within individual projects, the SEP provides as-needed consultation to iSPARC investigators and research teams, tailoring advice and resources to the investigators and study's goals.