New research and recommendations on "real life" stresses and concerns during crucial transition from college to career
JED and the University of Massachusetts Medical School Find Unmet Mental Health Needs among College Graduates Entering the Workforce
Date Posted: Wednesday, August 22, 2018
New Study Findings!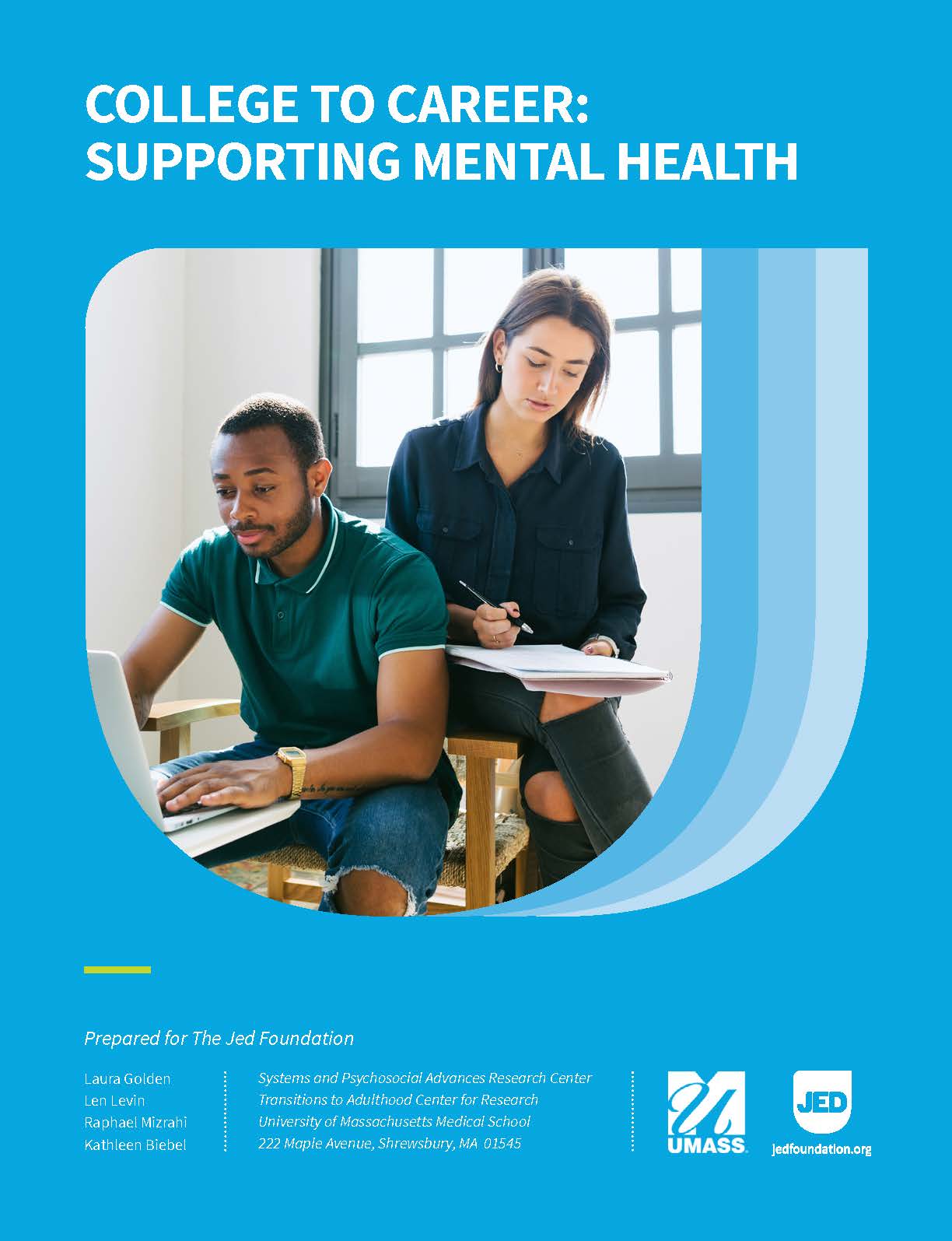 In partnership with the University of Massachusetts Medical School Transitions to Adulthood Center for Research (Transitions ACR), The Jed Foundation (JED), a leading nonprofit organization that exists to protect emotional health and prevent suicide for teens and young adults, today released a white paper, "College to Career: Supporting Mental Health", analyzing the challenges to emotional wellbeing faced by young adults during the college-to-career transition. The paper also offers strategic recommendations for colleges and employers looking to support young adults and improve outcomes during this critical transition.
Activities and choices made during the move from college to the "real world" can set the trajectory for the remainder of a college graduate's adult life, yet limited attention has been paid to the emotional wellness of these young adults. After conducting a thorough literature review regarding the college-to-career transition, the Transitions ACR and JED teams (conducted online by The Harris Poll) surveyed 421 college seniors, 1,008 recent graduates and 500 employers1 from across the nation exploring specific challenges during the college-to-career transition, as well as suggested strategies to support young adults and their emotional health.
"The study results illuminate the concerns and needs of young adults transitioning to 'real life,' including disconnects with available resources and their employers," said John MacPhee, Executive Director/CEO, JED. "For example, among college seniors who feel any stress, 73% cited 'how much is unknown for the next few years' as a source of stress, yet only a third of college seniors (34%) and one-quarter of recent graduates (24%) have sought emotional support during this transition time. The findings and recommendations of this white paper highlight the opportunities that colleges, universities and employers have to better support students in this transition."
Read the full report here.
Read the full press release here.
1 Seniors: ages 20-26, currently in their final year at a 2 or 4 year college in the US
Recent grads: ages 19-27, graduated from a 2 or 4 year college between 2013 and 2016, are currently employed or have been employed since graduation
Employers: age 18+, employed full or part time, and manage at least one employee who is a recent grad