Page Menu
Programmable Mouse Design
Programmable Mouse: Quality Improvement Project
Andrew Chen, MD
BACKGROUND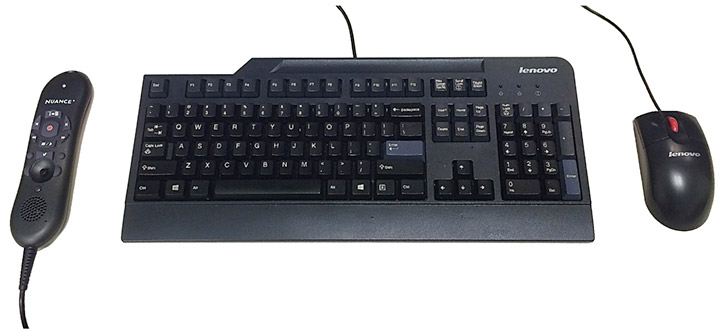 Daily radiology practice centers around 3 devices: the Dictaphone, the keyboard, and the mouse. In our department, these have not changed in the last 15 years, and most PACS computers have the original devices.
Moreover, increasing case volumes and number of images per case contribute to reader fatigue and increase risk for medical errors.
PURPOSE
Identify commercially available devices to increase radiologists' productivity and reduce reader fatigue as part of a practice quality improvement (PQI) project.
METHODOLOGY
As part of an ongoing project over the past 6 years, more than 20 input devices were purchased to replace the traditional hardware of the keyboard, mouse, and microphone. These devices included 3D mice, wired and wireless mice, tablets and touch pads, and programmable boards produced by companies such as 3Dconnexion®, Logitech®, Razer®, Wacom®, and IBM®.
Essential features for the device
Compatible with PACS system (Windows platform)
Commercially available
Simple to use
Easily programmable
Products tested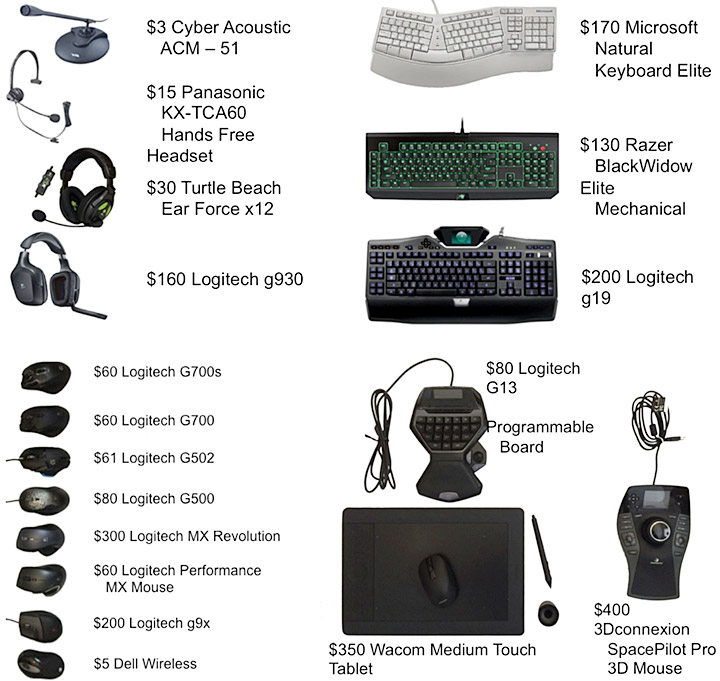 Chosen device
Why Logitech® G700/G700s was chosen

For the pilot study, we aimed to test the efficacy of at least 1 device
We chose the Logitech G700/G700s for the initial project

Has previously identified essential features PLUS:
On-board memory (software installation not required on the PAC systems)
Low cost
Flywheel and toggle scroll (for large image stacks)
Programmable for each radiologist's needs
3-5 days of battery life with single charge based on radiologist's typical usage
Programming
The mouse was programmed to perform several common tasks.
A sample of the programmable options is shown in image below.
Learn how to program the mouse. Download PDF

STUDY DESIGN
Participants
Radiologists from the following divisions:
Neuroradiology
Pediatric
Emergency
Cardiothoracic
Abdominal
MSK
Phases
Phase 1: Safety
Early adopter participants bought and programmed their own mice
No safety concerns were identified
Phase 2: Testing
Participants were assigned 3 tasks using either a traditional mouse or the Logitech mouse:

Scrolling through an image stack
Spine labeling
Switching images

Tasks were demonstrated to be statistically faster with the Logitech mouse
Phase 3: Productivity
Volunteer radiology attendings were evaluated on productivity as measured by RVUs

RVUs were assessed on 10 separate days before participants were introduced to the new mouse and on 10 days after they had become accustomed to it.
To reduce bias, volunteers were informed before the study that their productivity would be assessed but the methodology was not disclosed.
2 hr blocks were assessed on each of those 10 days for RVU productivity

The 2 hr block was selected based on maximal productivity during each test day.
During this block, attendings dictated cases themselves, not through a resident.
RVUs rose 11-25% per volunteer that successfully learned the mouse
Survey
Volunteers then completed a survey about their experience:
100% of subjects would recommend the mouse to others
75% of participants think the mouse improved their diagnostic ability.
100% would be willing to participate in future hardware trials.
Of note, 5 of 17 attendings failed to incorporate the mouse into their practice and withdrew from the project.
DISCUSSION
Hardware devices utilized in academic radiology practice have minimally improved
Radiologists need ways to increase their efficiency as image volumes increase.
Few studies have assessed hardware updates as a way to improve productivity. Mammography is one subspecialty that has taken lead.
This study shows that upgrading technology is a simple, low cost way to increase productivity among diagnostic radiologists.
In a standard workday, an 11-25% increase in productivity translates into ~1-2 hours to do more research or teaching, read more cases, or focus more on diagnostic portion of the case and less on the technical side.
Among the functions programmed into buttons, participants particularly enjoyed:

Initiate dictation
Ruler
Toggle scroll: Allows user to toggle between traditional scroll wheel and fly-wheel mode for large image stacks (e.g. CTA with 1000+ images).
Issues raised during the study
In Phase 3 of the study, 5 of 17 attendings failed to incorporate the mouse.
Most common factor hindering adoption of the mouse: Steep learning curve.

Inertia: "This is how it's always been done."
Relative lack of incentive to increase productivity in academic radiology.

The failure rate was more evident in the senior faculty.
Perhaps considering the Logitech mouse an industrial mouse, not a gaming mouse may increase the willingness of some to incorporate it in practice.
Study design limitations
Participants could not be blinded to the mouse they were using or to the cases

Ideal study design: Test each radiologist with the older mouse; repeat same cases with the newer mouse.
This is not realistic: Participants would already know the results from the initial radiologic cases.

Control and experimental arms were not possible because no two radiologists read at the same pace.
Daily/seasonal fluctuations in case volume

This prevented testing a specific time period (days-months) with and without the new mouse.
To avoid the issue of seasonal volume fluctuation, ten 2-hour blocks were chosen at random to assess productivity for each radiologist


Radiologists were assigned to their respective subspecialty responsibility (e.g. the chest radiologist read chest x-rays).
We reviewed each of those 10 days for a 2 hr block in which the radiologist was most productive (measured in RVUs).
We recognize that RVUs may not be the ideal measurement of productivity, but we utilize this to maintain consistency.
In an academic environment with inherent interruptions from conferences, consultations, and teaching responsibilities, we chose a 2 hr block assuming this is a reasonably reproducible time period where the academic radiologist is reading with little interruption.
This pilot shows that for little cost, a commercially available product can significantly increase radiologists' productivity, reducing fatigue, improving quality, and potentially reducing medical error.
Trainees are highly encouraged to explore new hardware devices as in this project. We believe this is a practical skill that will inevitably find its place in daily radiology practice. Please email me at Andrew.Chen@umassmemorial.org for comments or questions.
Andrew Chen, MD has no relevant financial or non-financial relationships to disclose.