Page Menu
Programmable Mouse - A Quality Improvement Project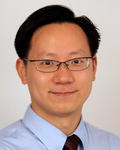 The Programmable Mouse: A Quality Improvement Project - Andrew Chen, MD
A group quality project that was proposed and is currently in progress is to find new technologies that may improve our effectiveness as radiologists. Day to day practice centers around three devices, the Dictaphone, keyboard, and mouse. In our department, these have not changed in the last 10 years. In fact, most PACS computers have the original devices. This project focuses on finding a substitute for the current mouse that may improve our productivity.
During a 4 year period, over 20 input devices were purchased and evaluated by myself to replace the traditional mouse. These devices included wired and wireless mice, tablets and touch pads, programmable boards, and 3D mice. The companies included were Logitech®, Razer®, Wacom®, IBM®, and 3Dconnexion®. After evaluation of these devices, a number of essential features were identified. The device needed to be compatible with the current PACS system, as simple as plugging in a USB with no software installation required, and easily programmable. Potential programmable mouse buttons include initiate dictation, previous and next series, scout line, localizer, spine labeling, and bone/soft tissue/lung window settings. A fly-wheel option was preferred over the traditional scroll wheel for large image stacks. Because of these requirements, the device list narrowed down to products from Logitech®, in particular, the G500 wired mouse and G700 wireless mouse and their successors the G500s/G502s and G700s mice. Initial evaluation by some of the more technologically savvy faculty was overwhelmingly positive. As was described by one participant, "it is the difference between starting a fire rubbing two sticks together versus using a lighter. The cook can focus on cooking, not starting the fire."
The natural conclusion would be improved productivity and speed, but this is an indirect measure of improvement. The purpose of these mice are to simplify the tools we use so we can focus on the study and not be distracted by finding the tools in the menu/submenus. The largest hurdle noted by this group was the steep learning curve.
The current iteration of the plan-do-study-act (PDSA) cycle includes a diversity of radiologists from those that are technically savvy to those that see themselves as technically challenged. The goal is to try to reduce the learning curve to encourage a wider adoption of these mice. Those interested in learning more should contact one of the participants for their feedback and/or email myself at Andrew.Chen@umassmemorial.org. Trainees are highly encouraged to participate in this and similar future projects as this is a practical skill that is portable to future endeavors. Learn more and download tutorial.