Page Menu
Special UMass Radiology Projects
Welcome to our department's "Special Projects" page. At UMass we are striving to build a vibrant, eclectic environment in which all faculty, trainees and students are able to utilize the extensive resources of the UMass community to pursue their varied interests.

This section of the web site will feature unique projects being pursued both within our department and in collaboration with other medical school departments, UMass campuses and a wide range of other institutions.
Featured this month
Videos – Stroke Treatment Using Mechanical Thrombectomy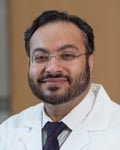 Dr. Ajit Puri, Division Chief for Interventional Neuroradiology recently received an educational grant to make a video on stroke treatment using mechanical thrombectomy, an endovascular procedure that is performed in neurointerventional radiology. For most stroke patients with an occlusion in the larger arteries of the brain, mechanical thrombectomy has become the gold standard for treatment in combination with tPA administration, where indicated. In fact, results of recent clinical trials have resulted in the AHA revising their guidelines for stroke therapy[1]. However, it is estimated that while a patient is experiencing a stroke, 1.9 million neurons, 14 billion synapses, and 714 km of myelineated fibers are lost each minute; therefore, time is of the essence[2]. One of the primary goals of this grant was to capture actual patient stories as a means to illustrate both the remarkable patient outcomes after mechanical thrombectomy and the importance of getting patients into the angiosuite as soon as possible. Multiple teams are involved in this effort beginning with first responders, the emergency room staff, stroke team, and anesthesia team as well as the NIR team, so it is important to get everyone on the same page to develop strategies to improve the time from stroke onset to clot retrieval. These patient stories were so compelling that Dr. Puri and his team ended up with enough footage for two educational videos. Future research in this area is focused on improving the design of the devices, optimizing imaging techniques for patient selection, and refining neurointerventional techniques for performing this procedure.