Page Menu
Vascular Interventional Fellowship
The Vascular and Interventional Radiology Division at UMass Medical School provides a wide variety of interventional services to the main University Campus as well and the Memorial Campus. We cover elective inpatient and outpatient procedures, and emergency cases after hours and on weekends, through a call team.
The Division is staffed by three full-time attendings, Dr. Stephan Wicky van Doyer, Dr. Hesham Malik and Dr. Sean Wilson, and part-time attending, Dr. Robert Sheiman. All attendings are fellowship trained. The Division offers an ACGME approved fellowship accepting one fellow per year. The Division is also supported by 4 midlevel's and a full complement of nursing and technologist staff.
Supporting active organ transplant, vascular, pulmonary and trauma services, as well as acting as the interventional vascular referral center for the network of hospitals and affiliated hospitals, the Division performs more than 2,000 vascular (pulmonary angiogram, TIPS, stents, PTA, embolization therapy, IVC filter placement, thrombolytic therapy, digital angiography), urologic, biliary and gastrointestinal procedures annually. Pre-procedure work-up, graduated hands-on experience, and post-procedure follow-up of patients are part of the residents and fellows responsibilities.
Currently, the Division houses two state-of-the-art interventional suites equipped with a Philips Allura XperFD20 unit as well iU22 ultrasound units. In addition, there are two vascular access rooms equipped with high-end GE OEC 9900 Elite c-arms.
Workload:
Our Division offers a wide variety of vascular and non-vascular interventional procedures, ranging from vascular access (e.g., PICCs, tunneled lines), to high complexity Interventional Oncology procedures (e.g., Yttrium-90 radioembolization, TACE).
We have a busy outpatient clinic where medium and high complexity cases are seen prior to procedures and also on follow-up visits. We take part in multidisciplinary clinic groups and offer inpatient consulting services.
Call coverage is offered 24/7, 365 days a year for all inpatient emergencies, as well as for our level 1 trauma unit.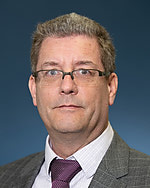 Stephan Wicky van Doyer, MD
Program Director
Vascular Interventional Fellowship