Page Menu
In The News 2010
Current News | News in 2016 | News in 2015 | News in 2014 | News in 2013 | News in 2012 | News in 2011 |
News in 2009
Ruthann Rizzi MD's essay, "Hidden Disparities in Mental Health Care for Medical Students: A Local Perspective", is published in the November/December 2010 issue of Worcester Medicine. "As a school-based service, we directly impact and educate the medical school (and the larger medical environment) regarding the most pressing issues concerning the mental health of medical students." Read the essay.
Jeffrey L. Geller, MD, MPH offered outsider's perspective in a Nov. 28 Burlington Free Press article examining the problems facing Vermont State Hospital and its future. Dr. Geller was hired to monitor the hospital's progress complying with a 2006 Justice Department court settlement.
Sarah Langenfeld, MD, assistant professor of psychiatry and Community Healthlink staff psychiatrist, and Marie Hobart, MD, chief medical officer for Community Healthlink and assistant professor of psychiatry, are co-principal investigators of a $1.9 million, four-year grant from the federal Substance Abuse and Mental Health Services Administration (SAMHSA) designed to bridge the gap between primary and mental health care for individuals. Read "$1.9 million grant to help patients with mental illness receive primary care" in the Nov. 24 UMass Med Now.
Thanks to early detection, accurate staging and precise therapy more people are surviving lung cancer today than ever before. Community members who attended the program Lung Cancer: Hope, Health and Healing held Nov. 19 learned details from our experts in medical oncology, radiation oncology and thoracic surgery. Geoffrey Graeber, MD, chief, thoracic surgery, explained his division's expertise in staging, which defines the degree cancer has advanced at the time of diagnosis, aiding long-term survival. He was joined by other staff including Greg Seward, tobacco cessation specialist, Karl Uy, MD, and Syed Quadri, thoracic surgeons, Debra Maddox, RN, patient navigator, and Angela Sabol, NP.
The Massachusetts Department of Public Health selected our UMass Memorial system to receive its 2010 Make Smoking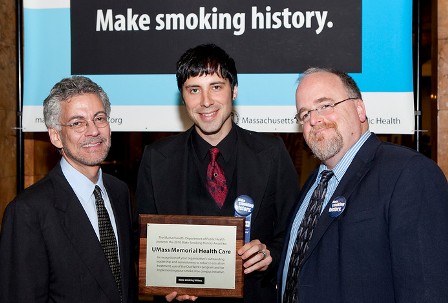 History Award. The award reflects the commitment at our hospitals to reduce tobacco use. Gregory Seward, director of UMass Tobacco Free Initiative and Ryan Coffman, director of UMass Tobacco Consultation Service, accepted the award on behalf of UMass Memorial at ceremonies at the State House, Nov. 17, to mark this year's Great American Smokeout. Mr. Coffman and Mr. Seward are both from our department. Pictured at the award presentation: Public Health Commissioner John Auerbach, Mr. Coffman and Mr. Seward.
Greg Seward, MSHCA, LADC-I, CTTS-M, CADC, LSW, Director of the Tobacco-Free Initiative, was interviewed Nov. 15 on WTAG's The Jim Polito Show regarding November 18th's Great American Smokeout and gives helpful tips and information on quitting smoking. Listen to the audio...
There is a clever saying that's sometimes used to sum up human predisposition to disease: "Genetics loads the gun and environment pulls the trigger." Paul D. Gardner, PhD, associate professor of psychiatry, Andrew R. Tapper, PhD, assistant professor of psychiatry, and GSBS student Reina Improgo, have identified a trio of genes that not only load the gun, they put a finger on the trigger when it comes to the relationship between nicotine addiction and lung disease. Read more... Nov. 3
Schahram Akbarian MD PhD commented on using gene therapy to target the p11 genes as treatment for depression in the Oct. 26 Technology Review article, "Gene Therapy for Treating Depression."
Dr. Anthony Rothschild's book Clinical Manual for the Diagnosis and Treatment of Psychotic Depression selected as book of the month on Psychiatry Online. A website of the American Psychiatric Association, Psychiatry Online is used as a resource for the Psychiatry Resident-in-Training® Examiniation (PRITE®) and the Psychiatrists In-Practice Examination® (PIPE) by The American Colleage of Psychiatrists®.
Schahram Akbarian MD PhD comments on how environmental factors may affect genes involved in regulating body weight. In the Sept. 16 Science News article, "Environmental DNA modifications tied to obesity," Dr. Akbarian, associate professor of psychiatry, comments on recent research that environmental factors may affect expression of key genes involved in regulating body weight. This story was also picked up by U.S. News & World Report.
Fernando de Torrijos TTS, MBSRS gave a week-long intensive mindfulness professional training in L'Escala, Girona Province, Spain, September 2010. Eighty-seven participants from 27 provinces in Spain and Latin America attended the highly demanded training. Most of these participants are health professionals and will teach mindfulness to their patients after the training. The training incorporates diverse formats and it's a smashing success. A similar training for September 2011 is being planned.
Negar Beheshti, MD interviewed live via Skype by CBS3 TV in Springfield on school bullying, Aug. 31, 2010. Just the right topic as school starts!
Over 1/3 of the total NIH budget supports studies using laboratory animals. Institutional Animal Care and Use Committees (IACUCs) are responsible for working with investigators to see that animal use follows the guidelines established by the U.S. Public Health Service but there has been little research describing the functioning of these important regulatory oversight committees. This information is important to understanding and enhancing how IACUCs carry out their key function of helping to assure the integrity of animal-based research. Charles Lidz, PhD,research professor of Psychiatry, recently received an R21 Award from the NCRR/NIH. The proposed research will describe the key issues that Institutional Animal Care and Use Committees (IACUCs) focus on when evaluating proposals for research on animals, and how organizational differences may affect those decisions. They will also characterize the interactive processes by which IACUCs make decisions including the roles of the different participants, the method of review used, the informational resources that members use in their reviews, and the requested changes that IACUCs make on different types of research proposals.
Social and emotional factors, such as child abuse, the tragic death of a loved one, witnessing violence in the home or community, or being a victim of assault or harassment, poverty or surviving a natural disaster, can hinder a student's success. Lisa Fortuna, MD, MPH, explains how these factors may exacerbate the risk of problem behaviors that interfere with learning. Dr. Fortuna also mentions a longitudinal study she conducted on literacy pathways to academic success in light of childhood adversity. Read the Aug. 20, 2010 article.
Anthony Rothschild, MD heavily quoted in "Coming to Terms with Depression" and "How Long Should You Take Antidepressants?" on WebMD, Aug. 12, 2010. Dr. Rothschild is professor of psychiatry and director of the Center for Psychopharmacologic Research and Treatment.
The August edition of the Massachusetts Medical Society's Physician Focus monthly educational health care program for patients examines the developmental disability of autism, one of three such disabilities along with Asperger Syndrome and Pervasive Development Disorder not otherwise specified. Jean Frazier, MD is a guest on the show along with Robin Adair MD, UMass Memorial Children's Medical Center. The program is being distributed to public access television stations throughout the state and will be available for viewing online in its entirety beginning in August at www.physicianfocus.org.
Negar Beheshti, MD on childhood bullying with tips for parents if they suspect their child is a bully in the July/August 2010 issue of Worcester Medicine. Dr. Beheshti is director of Child & Adolescent Psychiatry Consultation/Liaison and Emergency Mental Health Services, and assistant professor of Psychiatry & Pediatrics.
Dr. Mathieu Bermingham, child/adolescent psychiatrist and assistant professor of psychiatry, heavily quoted in The Bay State Banner article, commenting on the wraparound approach in which the State offers services to children, July 15.
Congratulations to the Department of Psychiatry's Peter Metz, MD and Paul Plasky, MD, PhD who have been named in the inaugural class of UMass Medical School's Learning Community mentors after a rigorous review process. The learning community mentors will dedicate their time to students' professional development through role modeling, clinical teaching and mentorship, as part of the new Learning Communities curriculum. July 8. More...
At UMass Psychiatry, we are "taking ownership of the brain." Sheldon Benjamin MD talks about the unique way to incorporate neurology and neuropsychiatry in our residents program in the Psychiatric News, July 2.
Having a child is an exciting time for all parents. But for some mothers, it's overshadowed by Postpartum Depression. Listen to Rebecca Lundquist MD on Postpartum Depression on "House Calls" at CBS 3 Springfield, June 24.
Tatyana Shteinlukht MD, medical director of Electroconvulsive Therapy (ECT) Service at the UMass Memorial Medical Center, and assistant professor of Psychiatry, quoted in recent T&G article on transcranial magnetic stimulation, or TMS, June 21. "The studies I've read say that TMS is about 40 percent effective in treating depression," she said.
The verbal response of British Petroleum (BP) to the catastrophic oil spill in the Gulf of Mexico has been described as an apology. It is not an apology. Read the Wall Street Journal article by Aaron Lazare MD, June 6.
Joanne Nicholson PhD is quoted in boston.com article on family ties, "It's not just an individual who lives with and suffers illness but a family that lives with and suffers illness, whether that illness is breast cancer or diabetes or mental illness," May 24.
Watch video of Gregory Seward MSHCA and Ryan Coffman MPH as guests on the Worcester District Medical Society's cable TV show May 11. Discussion focused on tobacco and treatment options, including those at UMass Memorial.
"If those hospital's walls could talk …" Westboro State Hospital's murals, as digital art, will endure facility's closing. Read the Worcester Telegram article about how Caroline McGrath RN, MA was involved with these very special murals and how they came to be, May 2.
Dr. Nanyin Zhang's paper, "High-resolution fMRI mapping of ocular dominance layers in cat lateral geniculate nucleus", was published in the May issue of NeuroImage. An fMRI map in that paper was selected as the cover.Read the paper.
Could it be postpartum depression (PPD)? See what Rebecca Lundquist MD says at MassMoms.com, April 12.
Among those who have loved ones with autism, a perception is forming that the current health care system provides inadequate medical care for them. In a recent interview, Lauren Charlot PhD, assistant professor of psychiatry, and William O'Brien MSW, executive director of the UMass Memorial behavioral health system, explain how autism patients are at a greater risk of misdiagnosis, overmedication and unnecessary inpatient admissions.Jean Frazier MD, Vice Chair of Psychiatry, oversees the program. Read the HealthLeaders Magazine article, April 8.
CANDI research lab highlighted in UMass Memorial Children's Medical Center Spring 2010 edition of Star Chronicle.Jean Frazier MD quoted: "In partnership with those who participate in our studies, we can advance our knowledge, improve care and offer new hope to families."
The Massachusetts Psychiatric Society has awarded Jeffrey Geller MD, MPH the 2010 Outstanding Psychiatrist Award for his work with Public Sector Psychiatry. Congratulations!
We are very proud to announce that two of our faculty have won a Women's Faculty Award! Joanne Nicholson PhDhas been chosen to receive the Women's Faculty Award for Outstanding Community Service. This award is presented to a woman faculty member who best exemplifies outstanding community service to the UMass and/or Worcester community. Rebecca Lundquist MD has been chosen to receive the Women's Faculty Award for Excellence in Clinical Service. This award is presented to a woman faculty member who has made exceptional contributions to patient care in the UMass and/or Worcester community. Congratulations!
Sheldon Benjamin MD quoted in March 30 Washington Post article, "Google and Facebook raise new issues for therapists and their clients."
Fernando de Torrijos TTS, MBSRS contributes article to Worcester Business Journal entitled "Knowhow: Take It Easy - Tips for relieving stress in the workplace". Read the March 29 article.
Matilde Castiel MD, assistant professor of medicine and family medicine & community health, talked about her volunteer work for Reyes House, a substance abuse program tailored for Hispanic men, in a March 26 article for theWorcester Telegram & Gazette.
How can our Tobacco Consultation Service help you care for patients? According to Greg Seward, MSHCA, LADC-I, CTTS-M, director, "We see patients early in their stay, and offer expert advice on nicotine replacement therapy (NRT) and nonmedication techniques that help patients be more comfortable while they are in our care." When you have a patient who smokes, call our Tobacco Consultation Service, 774-442-4372, for a consult in addition to offering NRT.
Recent Washington Post article by Aaron Lazare MD on "An ineffective and insincere apology from Tiger Woods," February 21.
The 4th Annual Central Massachusetts Regional Brain Bee Competition was held on Saturday, January 30, 2010 at the Medical School. 53 students from 9 schools competed for the Andrew Sheridan Young Neuroscientist award.Read details and see photos from the event.
"For children, even if they have not experienced this event firsthand, they can still feel vulnerable, confused and scared." Recent Telegram & Gazette article addressed concerns that children may have after natural disasters such as the Haitian earthquake, with input from Negar Beheshti MD, director of child psychiatry consultation-liaison service at UMass Memorial Medical Center in Worcester, Jan. 17. Read more...
Dr. Negar Beheshti, director of child psychiatry consultation-liaison service at UMass Memorial Medical Center in Worcester, contributes to Telegram & Gazette article regarding concerns that children may have after natural disasters such as the Haitian earthquake.