Page Menu
Preparing the Open Dialogue Approach for Implementation in the U.S.


We are very pleased to announce that a substantial donation by an Atlanta based donor has enabled The Foundation for Excellence in Mental Health (FEMHC) to provide the UMMS team with an additional two years of funding, beginning in March, 2016. This generous grant will allow us to implement an Open Dialogue pilot project in Atlanta with our colleagues at Emory University Medical School, who have also received funding for the project. Dr. Douglas Ziedonis (Principal Investigator), Dr. Mary Olson, Dr. Jaakko Seikkula, Sharon Kershaw and Eileen Small, MSW, will provide organizational and clinical training in the Open Dialogue approach to a team led by Dr. Robert Cotes and Dr. Keith Wood at Grady Memorial Hospital. There will be an initial core training period of 4 months with ongoing supervision for the two years of the project. The pilot study will provide clinical care for 20-24 individuals and their families. Fidelity tools such as The Key Elements of Dialogic Practice in Open Dialogue: Fidelity Criteria, The Open Dialogue Therapy-based Fidelity Scale and The 10 Organizational Criteria, that were developed in the first three years of the grant, will be used in the program. If the outcome data and program implementation from this project are effective, nationwide adoption of the Open Dialogue approach will be more attractive and more viable than ever before. Here is the link to this announcement on the FEMHC website: http://www.mentalhealthexcellence.org/open-dialogue-u-s-expanding-to-atlanta-ga/
Check out our first version of The Psychotherapy-Focused Fidelity Chapter entitled "The Key Elements of Dialogic Practice in Open Dialogue: Fidelity Criteria". The intent of this document is to help support the development of an Open Dialogue practice and way of relating in teams that can be used for "self-reflection" by an individual practitioner or whole team participating in Open Dialogue meetings, for supervision and training purposes, and for helping in systematic research. Please send your comments and feedback to Dialogic.Practice@umassmed.edu.
The paper "An Auto-ethnographic Study of Open Dialogue: The Illumination of Snow" by Dr. Mary Olson has been published on-line in Family Process (Olson, M. (2015), An Auto-Ethnographic Study of "Open Dialogue": The Illumination of Snow. Family Process. doi: 10.1111/famp.12160). This paper represents an introductory lecture used in training and includes a description of the forces leading to the growing interest in Open Dialogue in the United States. A video abstract of the paper is available at https://www.youtube.com/watch?v=46wF3GQCdGM
---
A multi-disciplinary team at the University of Massachusetts Medical School (UMMS), led by Drs. Douglas Ziedonis (PI) and Mary Olson (Co-I) of the UMMS Department of Psychiatry, is collaborating with Dr. Jaakko Seikkula and his colleagues at the University of Jyväskylä, Finland, to prepare the Finnish "Open Dialogue" for adaptation and implementation in the U.S.
Open Dialogue (OD) is an innovative, language-based, network approach to acute psychiatric crises developed by Jaakko Seikkula, Birgitta Alakare, Jukka Aaltonen and their multi-disciplinary team at Keropudas Hospital in Tornio, Finland. This psychosocial intervention has two components: (1) a community-based, integrated treatment system that engages families and social networks, and (2) a distinct and unique form of dialogues within open psychiatric meetings. The approach has been effective in reducing symptoms of psychosis, leading to fewer and shorter hospitalizations, reduced neuroleptic medication dosage, greater improvements in functioning and improved likelihood of employment (Seikkula et al. 2006).
There is a strong convergence between Open Dialogue and recovery-oriented principles and practices. Both embrace recovery as a genuine process of revival and resiliency, which is grounded in hope, empowerment, and a supportive network. Open Dialogue creates democratic partnerships between professionals and the people they serve to restore productive and meaningful lives. Both the recovery perspective and Open Dialogue are reinforced by the knowledge that people with mental health and addiction problems can and do persevere and play meaningful roles in society.
Research Infrastructure Development Project: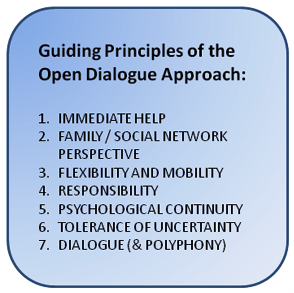 Launched in September 2012 and funded by the Foundation For Excellence in Mental Health Care, the UMMS/Finland OD initiative will develop practical tools for clinicians, program leaders, and researchers in the United States – and throughout the world – who hope to further investigate the OD approach.
The collaboration will produce several products to help with adaptation of the Open Dialogue model, including:
1. A psychotherapy-focused manual and fidelity tool for clinical interactions with individuals and families
2. A system-focused manual and fidelity tool for assessing program/organizational implementation.
Related links
Video – Dr. Christopher Gordon and Brenda Miele Soares, MSW give an Open Dialogue presentation entitled: New approaches to mental health services
Video – Dr. Jaakko Seikkula speaks about Open Dialogue
Madness Radio: Open Dialogue for Psychosis w/ Mary Olson
Institute for Dialogic Practice, Haydenville, MA
Open Dialogical Practices
National Empowerment Center - Dialogical Recovery from Monological Medicine
Related references
Aaltonen, J., Seikkula, J., & Lehtinen, K. (2011). Comprehensive open-dialogue approach I: Developing a comprehensive culture of need-adapted approach in a psychiatric public health catchment area the Western Lapland Project. Psychosis, 3, 179 – 191.
Olson, M, Seikkula, J. & Ziedonis, D. (2014). The key elements of dialogic practice in Open Dialogue. The University of Massachusetts Medical School. Worcester, MA.
Seikkula, J., Alakare, B., & Aaltonen, J. (2011). The comprehensive open-dialogue approach(II). Long-term stability of acute psychosis outcomes in advanced community care: The Western Lapland Project. Psychosis, 3, 1–13.
Seikkula, J. & Olson, M. (2003). The open dialogue approach: Its poetics and micropolitics. Family Process, 42, 403-418.
UMMS Project Team
Douglas Ziedonis, MD, MPH, Principal Investigator
Mary Olson, PhD, Co-Investigator
Jaakko Seikkula, PhD, Consultant
Christopher Gordon, MD
Eileen Small, MSW
Jonathan Delman PhD, JD, MPH
Daniel Fisher, MD, PhD
Daniel Breslin, MD
Ippolytos Kalofonos, MD, PhD, MPH
Kathleen Biebel, PhD
Zlatina Kostova, PhD
Boris Lorberg, MD
Sharon Kershaw
Grace Masters, BS
Celine Larkin, PhD
Nicholas Olendzki, PsyD
International Open Dialogue Colleagues
China
Yanli Luo, MD

Japan
Yasuhiko Murakami, PhD
Yukako Shinozuka, MA

Latvia
Elmars Rancans, MD, PhD
Maris Taube MD, PhD
Liena Grauda, MD

Lithuania
Ramune Mazaliauskiene, MD
Vesta Steibliene, PhD

Poland
Regina Bisikiewicz

United Kingdom
Russell Razzaque, MD
Stephen Pilling, PhD
For more information on the UMMS Open Dialogue global collaboration project, please contact Eileen Small, Project Director, Department of Psychiatry, University of Massachusetts Medical School, 55 Lake Avenue North, Worcester, S7-734, (p) 508-856-6472|(f) 508-856-6621.