Page Menu
Central Massachusetts Resources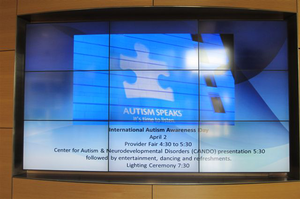 For more information, please contact CANDI at 774-455-4100 or ChildResearch@umassmed.edu.
Autism Resource Central of Central Massachusetts

Autism Resource Central offers support groups for families to share suggestions, concerns, and resources. There are plenty of recreational and therapeutic programs available for individuals with an autism spectrum disorder as well as services to help their family members. Educational workshops are available for parents and professionals in the community through out the year in order to improve the quality of life for individuals with autism and their families. 508-835-4278.

Center of Hope Foundation, Inc.

The Center of Hope Foundation provides support for individuals with intellectual disabilities and their families.
PO Box 66, 100 Foster Street, Southbridge, MA 01550; 508-764-4085 or 774-230-1926.

Child and Family Forensic Center (CFFC)

CFFC provides evaluation and consultation services to the courts when legal decisions affect the lives of children.
Worcester: 306 Belmont Street, Suite 140; 774-442-4595.

Community Healthlink Youth and Family Services

Community Healthlink provides counseling services, school-based services, intensive home-based services for DCF and DMH involved children, juvenile court clinic, victim services, Together for Kids, early intervention, residential services, CBHI (Mass Health) services including intensive care coordination and family support and training, Youth Mobile Crisis Team, therapeutic mentoring, and in-home therapy.
Leominster: 100 Erdman Way.
Worcester: 72 Jacques Avenue.
508-860-1260

Community Resources for People with Autism

Community Resources for People with Autism provides support, information, and practical help for individuals with Autism Spectrum Disorders and their families living in Western Massachusetts. 413-529-2428.

Family Support Centers

The Family Support Centers, affiliates of Seven Hills Foundation, are open to individuals with disabilities and their families who are seeking information, including referral, family training, and parent networking.
Fitchburg: 1460 John Fitch Highway; 978-632-4322.
Sturbridge: 128 Main Street, Suite 3, Box 4; 508-796-1954.
Worcester: 799 West Boylston St; 508-796-1850.

Massachusetts Behavioral Health Access

The Massachusetts Behavioral Health Access (MABHA) website enables users to locate available openings in Intensive Care Coordination (ICC), In-Home Therapy, Therapeutic Mentoring, and In-Home Behavioral Services.
The website, operated by the Massachusetts Behavioral Health Partnership (MBHP), is athttp://www.mabhaccess.com/.

Massachusetts Family-to-Family Health Information Center

The Massachusetts Family-to-Family Health Information Center is a parent-run center that provides free, confidential technical assistance to families raising children and youth with special health needs, professionals, and others.

Mental Health Legal Advisors Committee

The Mental Health Legal Advisors Committee (MHLAC) is an independent state agency of the Supreme Judicial Court that helps children and adults with mental disabilities protect their rights and obtain appropriate services. MHLAC provides advice and direct legal representation on a wide range of legal issues including access to services, rights regarding treatment, custody and visitation, guardianship, insurance issues, education, housing and rights in institutional and community settings.

Multicultural Family Support Center

The Multicultural Family Support Center is open to individuals with disabilities and their families who are seeking information including referral, family training, and networking.
Worcester: Centro Las Americas, 11 Sycamore Street; 508-798-1900.
info@centrolasamericas.org

NAMI Massachusetts Free Mental Health Family Classes

NAMI Family-to-Family is a free 12-week course for family caregivers of individuals with severe mental illnesses that discusses the clinical treatment of these illnesses and teaches the knowledge and skills that family members need to cope effectively.

Parent/Professional Advocacy League

The Parent/Professional Advocacy League is a statewide network of parents and professionals who advocate on behalf of children and adolescents with emotional, behavioral, and mental health needs. PAL provides workshops, trainings, and support groups.
40 Southbridge Street, Suite 310, Worcester, MA 01608; 508-767-9725.
info@ppal.net

Pediatric Behavioral Health

Pediatric Behavioral Health is a multi-specialty group practice. Professionals provide evaluations and treatments for children and adolescents with mental health challenges.
West Boylston: 148 Worcester Street; 508-835-1735.

Together for Kids - Community Healthlink

Together for Kids is a comprehensive mental health prevention and intervention model of services for children 5-13. Program staff in infant, toddler, preschool and after school child care programs licensed by the MA Department of Early Education and Care (EEC) are eligible to receive free behavioral health consultation services.
Worcester: 275 Belmont Street, 508-791-3261.
lhennigan@communityhealthlink.org

Youth Mobile Crisis Intervention - Community Healthlink

Community Healthlink's Youth Mobile Crisis Intervention (YMCI) provides crisis intervention and stabilization services in homes, schools, and other community settings for youth through the age of 20. The YMCI is a team of professionals who will travel to a youth's home, school, residential program, or other community setting to provide on-site evaluation and crisis intervention services. The YMCI's goal is to serve as an intervention tool for youth and families before the child or teen requires emergency room care.
Worcester: 866-549-2142.
North Central Worcester County: 800-977-5555.

Investing in the future...helping kids and families.