Page Menu
Directors' Message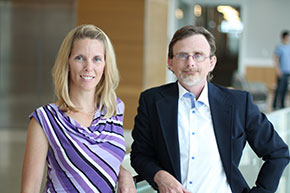 Welcome. In 2014, we received funding from the National Cancer Institute to launch a full-time post-doctoral fellowship program, the goal of which is to train future leaders in cancer prevention and control implementation science. We are confident that our program's unique blend of didactic curriculum and mentored research opportunities will provide the foundation for the next generation of researchers to develop solutions that reduce the burden of cancer at the local, national, and international levels. Following completion of the program, PRACCTIS fellows will be equipped with the diverse skills necessary to identify and evaluate new and effective ways to integrate scientific evidence into practice. Our multi-disciplinary faculty, representing diverse departments and centers across the UMass campus, is excited to begin the work of mentoring and training fellows in the year ahead. We hope you will be a part of the experience.
Unique Training Opportunities
PRACCTIS provides opportunities for trainees to:
Take specialized courses in implementation science
Complete an optional Master of Science in Clinical Investigation
Receive team mentorship from senior faculty, junior faculty and a site partner
Join highly effective research teams
Gather pilot data that builds toward a future research trajectory Conduct real-world research through full immersion in collaborative research relationships with clinical, public health or community partners
Participate in mock NIH grant review sessions
Participate in unique clubs, including a campus-wide K-club to inform the submission an NIH grant proposal
Publish manuscripts and make presentations at national conferences
Draw upon career planning and placement resources
What is PRACCTIS?
PRACCTIS is a full-time NCI-funded post-doctoral fellowship training program designed to provide the next generation of cancer prevention and control researchers with the knowledge and skill sets to eliminate gaps in the translation of research to practice along the cancer continuum, including prevention of disease, early detection, diagnosis, treatment and survivorship.
This 2-3 year program emphasizes didactic training in implementation science and mentored research opportunities and provides access to a wide array of training and enrichment opportunities on the UMass Medical School campus. We emphasize training independent investigators who will become leaders in cancer prevention and control implementation science research.