Page Menu
INPATIENT
UMass Memorial University Campus is the major pediatric referral hospital for Central Massachusetts, Northern Connecticut, and Southern New Hampshire. It is also a community hospital for Worcester and is the only Level 1 trauma center serving both adults and children in New England.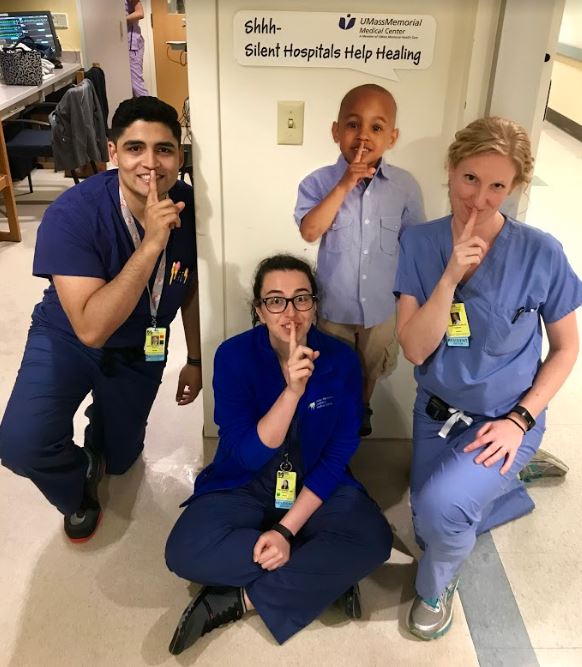 General Inpatient Service
Children admitted to the 30-bed general inpatient service present diagnostic and management problems ranging from basic to complex. All children are cared for by residents, with supervision and consultation by pediatric hospitalists, subspecialty pediatricians, pediatric surgeons, and pediatric surgical subspecialists.
A full teaching schedule of rounds and conferences supplements the hands-on learning and supervised clinical experiences of the inpatient service. Medical students participate in the educational activities year-round and enhance the academic atmosphere.
A team approach to patient care is strongly emphasized. The care team includes attending physicians, nurses, residents, medical students, case managers, social workers, respiratory therapists, OT/PT specialists, as well as Child Life staff members. All work together in a mutually supportive environment to ensure comprehensive and outstanding patient care.
Pediatric Intensive Care Unit
The ten-bed PICU is the only facility in Central Massachusetts that provide intensive care to children. Residents provide patient care in the PICU under the supervision and guidance of critical care faculty in pediatrics. Pediatric residents are responsible for both medical and surgical ICU patients. Our housestaff gain experience in the care of medical ICU patients, trauma patients and surgical subspeciality patients. Fundamental critical care knowledge, technical expertise and skills in the provision of psychosocial support to patients and families are fostered by the faculty and staff through supervised clinical care, rounds and conferences.
NICU and Newborn Nursery
Located one mile from the University Campus, the Memorial Campus is the regional perinatal center. It includes the UMass Memorial Department of Obstetrics and Gynecology and features the area's only high risk obstetrical services with an active maternal transport program. As a result, the majority of newborns admitted to the NICU are born at Memorial Campus, providing residents ample experience in delivery room resuscitation and stabilization. Additionally, residents participate in the Newborn Transport Team, traveling to community hospitals to stabilize and transfer newborns in need of Level III NICU care.
Our NICU is very proud of its warm environment and collaborative atmosphere. Supervision in the NICU is provided by full time neonatologists who provide on-site 24/7 coverage. Residents also enjoy working with neonatal nurse practitioners, NICU fellows, NICU nurses, social workers, lactation consultants and child life specialists. In the NICU we practice family-centered multidisciplinary rounds.
The NICU has an active conference schedule. There is a lecture series comprised of core topics, journal clubs, M&M, and ethics conferences, among others, that the residents will be exposed to during their month in the NICU.
During the nursery rotation, well newborn care is emphasized. Residents work with a pediatric attending who directs the care of well newborns, gaining experience in the management of common newborn issues. Furthermore, residents enjoy the experience of counseling families during the newborn period.