Page Menu
Robotic Surgery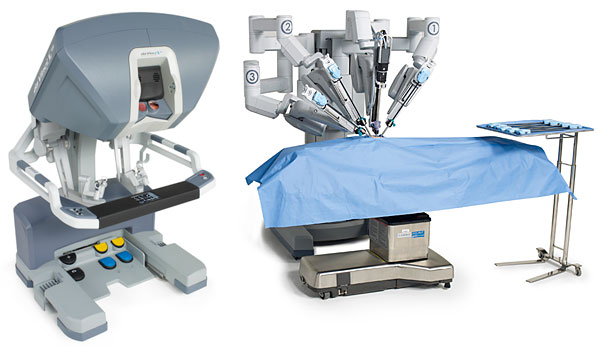 Head & Neck Surgeons are doctors that trained in Otolaryngology and specialize in surgery for tumors of this complex part of the body. The throat, tongue, and tonsils, or the region known as the oropharynx, is an area that poses a challenge to traditional surgery. This region is hard to reach and there are important nerves and blood vessels nearby. Traditional surgery to remove tumors from this region often requires large neck incisions and sometimes even surgically cutting the jaw bone, which often requires a long hospital stay, and can have serious consequences for a patient's speech, swallowing, and physical appearance.
Technological advances have led to the development of robotic surgery. The use of robots in surgery is now standard treatment for many procedures. In the field of Head & Neck Surgery, robotic surgery allows tumors of the oropharynx to be removed entirely through the mouth. This is known as transoral robotic surgery (TORS). TORS allows for surgery without an external scar, and also generally shorter hospitalization afterwards. The robotic camera provides a magnified 3-dimensional view for safer surgery. Two or even three robotic hand pieces are used by the surgeon to perform the dissection. These instruments allow greater degrees of motion and additional dexterity compared to what can be achieved through traditional surgery techniques alone.
TORS is generally used for treating tumors of the oropharynx specifically. This is the region at the back of the mouth and includes the tonsils and the back of the tongue. Some tumors of the larynx (voice box) may also be best removed using robotic surgery. Robotic surgery can sometimes be used in surgery for obstructive sleep apnea as well. In this situation, the surgeon uses a transoral robotic surgical approach to remove the tonsils and or part of the back of the tongue in order to provide more space for the patient to breath.
UMass Chan Center has a comprehensive Otolaryngology - Head & Neck Surgery Department with specialists in all facets of Head & Neck Surgery including: thyroid and parathyroid surgery, endoscopic skull base surgery, microvascular surgery, and robotic surgery. For more information regarding robotic head & neck surgery, contact Ricardo Aulet, MD or Arvind Badhey, MD at 508-856-4161.