Page Menu
Faculty Data and Reports
The OFA maintains a database of all Faculty who hold academic appointments at UMMS. As of June 30, 2016, UMMS had 3,001 Faculty and includes:
2,819 in the School of Medicine
182 in the Graduate School of Nursing
368 in the Graduate School of Biomedical Sciences
1,692 employed by UMMS, UMMMG or both
344 (20%) employed part time
155 (9.2%) tenured and 75 (4.4%) on the tenure track
1309 volunteer faculty
Mentoring Survey Results
A Mentoring Survey was conducted in Fall 2012 with a 42% response rate by employed UMMS faculty. The data reveal a "mentoring gap"—
one third of all faculty respondents stated that they were not receiving guidance but needed mentoring.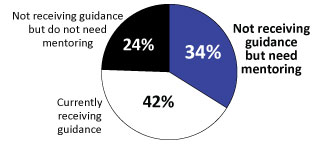 OFA Annual Reports