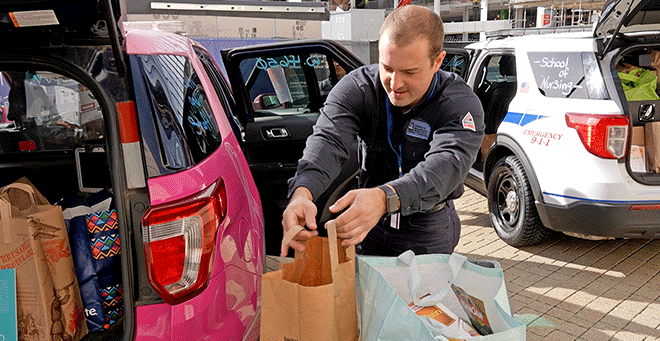 UMass Chan Medical School will host its Thanksgiving Stuff-a-Cruiser Food Drive on Friday, Nov. 17, with a goal of collecting thousands of pounds of food to donate to a pair of local nonprofits.

The UMass Chan Department of Public Safety, Worcester Police, Shrewsbury Police and Massachusetts State Police will line up patrol cars in front of the Albert Sherman Center and Medical School building to collect nonperishable food items to support Why Me & Sherry's House and Veterans Inc.

UMass Chan public safety deputy chief Nancy O'Loughlin said the goal is to surpass last year's food drive at which the cruisers were filled with 3,500 pounds in food donations.

Faculty, staff and students from the T.H. Chan School of Medicine, Tan Chingfen Graduate School of Nursing and Morningside Graduate School of Biomedical Sciences will comprise four competing teams, with each team assigned a patrol car to fill. Monetary donations will also be collected, with every $1 collected adding a pound to the total weight.

Each police cruiser will be weighed at the start of the competition at 7 a.m. and again at the end of the day at 5:30 p.m. to determine the winner. A pizza party will be thrown for the team that collects the highest weight of nonperishable items.