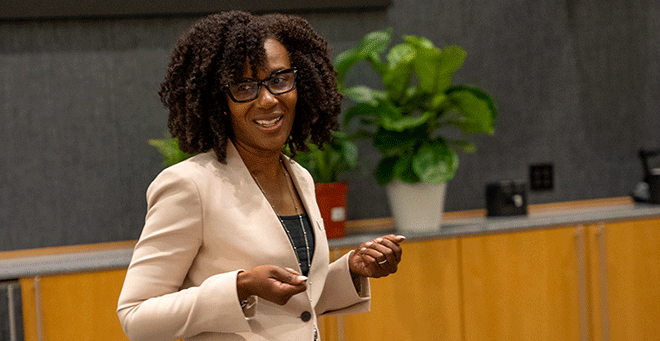 Marlina Duncan, EdD, vice chancellor for diversity and inclusion, was named to Color magazine's 2023 Power List of 50 Chief Diversity Officers.

In a special issue, Color magazine writes, "Duncan is a thought leader and a trusted advisor to the administration, faculty and students. Through her work as a diversity, equity and inclusion administrator, she has gained an understanding of and experience with effective evaluation and assessment practices with a focus on learning and the ability to guide data informed efforts."

Dr. Duncan joined UMass Chan in December 2020. In less than three years at the Medical School, she has restructured employee resource groups to have a more unified and structured purpose, centered underrepresented groups via heritage celebrations and affinity groups, and challenged the institution to commit to anti racist work. Duncan has influenced policy and practice through the implementation of the diversity pillar as part of the Impact 2025 Strategic Plan and has established and strengthened methods to measure success through diversity data dashboards and the Diversity Engagement Survey.

"At UMass Chan Medical School, we know that diversity, equity and inclusion are central to achieving our mission. Our charge is to create a community of health care providers, researchers, and educators dedicated to advancing knowledge, health, and wellness in service of the community, the nation, and the world. Our goal is to recognize, understand, and fight against barriers—prejudice, bias, and systemic barriers—that stand in the way of creating a truly diverse, equitable, and inclusive UMass Chan," Duncan said.

An online magazine that celebrates and empowers professionals of color, Color recognizes the exceptional achievements and contributions of individuals from diverse backgrounds, shining a spotlight on their remarkable journeys and inspiring successes.