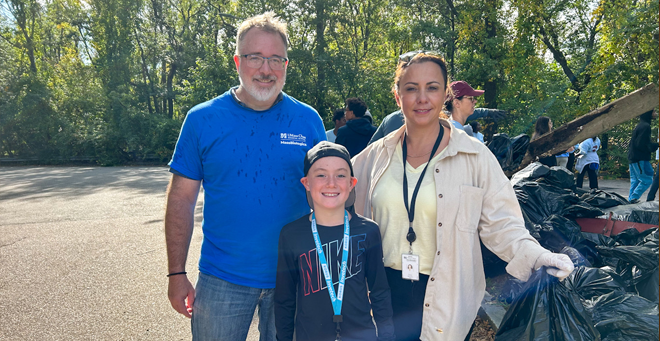 More than 80 volunteers, including dozens of employees from UMass Chan Medical School, cleaned out garbage and raked away debris from wooded areas at the intersection of American Legion Highway and Morton Street in Boston's Mattapan neighborhood on Wednesday, Oct. 11.
The volunteer effort is part of a community partnership between MassBiologics of UMass Chan Medical School and Brooke High School, a public charter school in Boston. The group filled more than 100 trash bags and removed tires, suitcases, metal posts, wood pallets and old highway signs.
Brooke High School is part of the Brooke Charter Schools network, with four campuses in Boston and Chelsea. Brooke High School and MassBiologics are in Mattapan, about a mile apart from each other, separated by Mass Audubon's Boston Nature Center and Wildlife Sanctuary, Rt. 203, and the busy intersection where the clean-up took place.
Diana Morales, deputy director of business development and operations at MassBiologics, said, "We are local, and we are part of this community. I think it is important we participated in the cleanup and took a time out and really reflected on our role here in the community."
Hagar Berlin, chief development officer for Brooke Charter Schools, said the school was able to tie in its annual senior service day to the joint clean-up effort.
"With MassBiologics being our neighbors and this intersection right between us, the area worked out great as an opportunity to host a clean-up. We live and work here. We want it to be clean. We want it to be a place we're proud of," Berlin said.
State Rep. Russell E. Holmes spent the morning helping carry large items out of the woods, including a highway work zone sign he found dumped along Morton Street. Holmes' office provided the trash bags for the clean-up and organized a Massachusetts State Police safety detail to keep volunteers safe.
"Events like today really do show the value the students have in their community. I hope people drive by and see UMass Chan, the students and other volunteers out here to send the message to please stop littering," Holmes said. "It feels outstanding to be volunteering because of the fact that community should be first and this is how we make sure we're part of the community."
More than 50 Brooke High School seniors participated in Wednesday's cleanup effort. Afterward, the students joined the other volunteers for a Q&A session and pizza party at MassBiologics, the only nonprofit, FDA-licensed manufacturer of vaccines and biologics in the United States.