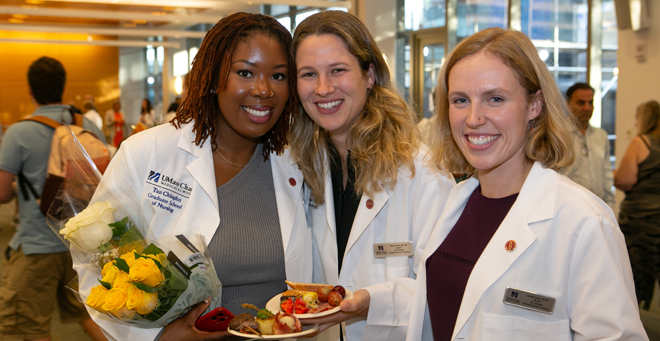 The Tan Chingfen Graduate School of Nursing at UMass Chan Medical School presented 59 Doctor of Nursing Practice students with white coats on Tuesday, Sept. 12, in a celebration signifying the transition into clinical practice.
The fragrance of fresh flowers filled the air in the Albert Sherman Center Auditorium as family, friends, significant others and faculty gathered to support the advanced practice nurses.
"As your dean, I am privileged to be the first nurse to congratulate each and every one of you," said Joan Vitello-Cicciu, PhD, RN, the Donna M. and Robert J. Manning Chair in Nursing, dean of the Tan Chingfen Graduate School of Nursing and professor of nursing. "Patients are entrusting you with their lives, presenting more complex health challenges than ever before. They seek not just medical expertise, but also your empathetic and emotional support."
"As you are advancing nursing practice, you will enrich the lives of your patients by encouraging them to embrace evidence-based practice and pertinent data," continued Dean Vitello-Cicciu. "You will be the beacon of hope and guidance in their darkest hours. The future of nursing shines very brightly in your capable hands."
"This is a very joyful occasion," said Terence R. Flotte, MD, the Celia and Isaac Haidak Professor, executive deputy chancellor, provost and dean of the T.H. Chan School of Medicine. "It's a very momentous occasion as you don your white coats to take on this new role—the mantle of being a provider."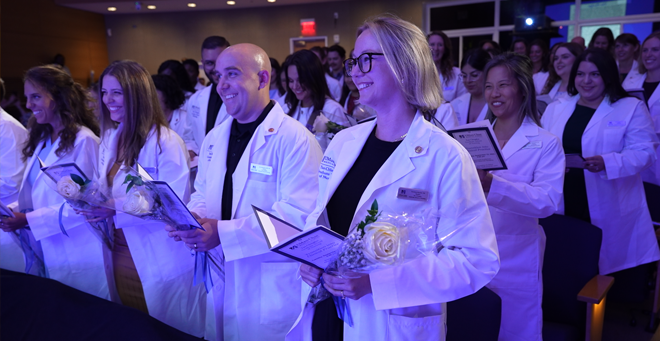 Jeannece Batista, a student from Worcester in the Adult-Gerontology Acute Care Nurse Practitioner Track, explained that the white coat was traditionally presented to medical students and the Tan Chingfen Graduate School of Nursing adopted the practice to signify transitioning as advanced providers.
"It's this encompassing world and we're all united. We're all working together for the better purpose of health care," Batista said.
Israh Abdeljaber, a student from Chicago in the Family Nurse Practitioner Track, was excited that her parents, husband, in-laws and grandparents had traveled to support her.
"Nursing provides empathy for people and we do it with our heart," said Abdeljaber. "To me, the white coat represents interprofessional care. As nurse practitioners, we will be working with doctors and other professionals in our field. It demonstrates being providers together to help our population."
"Nursing provides a holistic approach," said Batista. "It's the best part about it. We're treating a person, not a disease. That's why we're here."
Adult-Gerontology Acute Care Nurse Practitioner Track
Dominica Boucher
Eric Grzybinski
Madeline Hayes
Jennifer Konjoian
Patrick Kramer
Erika Marrero
Grace McCullough
Eileen Monagle
Melanie Ostiguy
Sarang Raj
Brooke Rogers
Anita Tran
Robin Young
Family Nurse Practitioner Track
Israh Abdeljaber
Ama Agyei
Carina Ashkar
Jennifer Bugos
Alicia Cove
Rachelly De La Cruz
Andrea Ferland
Amanda Ford
Emma Glozman
Julia Hebert
Ranjana Jha
Fernelle Leandre
Annie Lee
Olga Markushova
Alyssa Menendez
Sonya Meraz
Michelle Oliveri
Colleen Packard
Basirat Quadry
Connor Saleeba
Shelby Shaw
Rebecca Smith
Jillian Steacy
Rachel Stroh
Ayeh Tanteh
Sophia Webb
Monica Wiant
Adult-Gerontology Primary Care Nurse Practitioner Track
Jeannece Batista
Nava Hosseinnezhad Bahramjerdi
Anupa Prajapati
Shannon Sherman
Nopporn Thangthaeng
Psychiatric Mental Health Nurse Practitioner Track
Daniel Appiah
Marley Buonacore
Kirsten Fowlks
Brandon Gentile
Janet Haas
Ellen Ingraham-Shaw
Victoria Landry
Hala Moustafa
Emily Nolan
Audrey O'Neill
Raj Patel
Erika Powell-Burson
Jillian Reid
Joseph Tulip
Jaime Yates