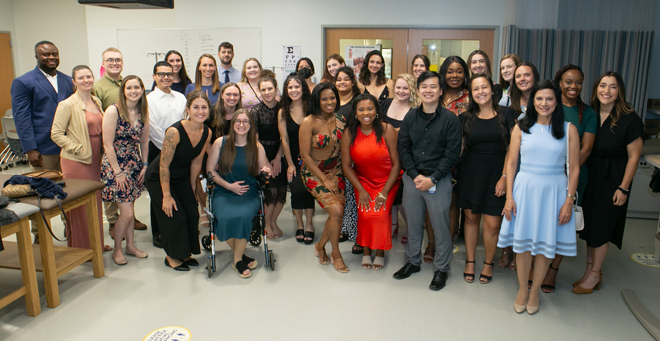 The Tan Chingfen Graduate School of Nursing at UMass Chan Medical School welcomed 33 nurses into the profession at its annual Graduate Entry Pathway Pinning Ceremony on Monday, Sept. 11.
The new nurses come from careers as varied as athletic training, farming, social work and the military.
The ceremony recognizes the students' successful completion of educational credentials to qualify as registered nurses as they begin the Doctor of Nursing Practice curriculum, and serves as a rite of passage into the profession and a reminder to everyone of nursing's promise to serve others.
"The pinning ceremony marks just the first of many milestones of your personal journey. It is often said that the ceremony is transformational, and we are proud to be witness to the transformation of this group," said Akwasi A. Duah, RN, PhD'17, director of the Graduate Entry Pathway Program.
The celebratory event was held in the presence of family and friends in the Albert Sherman Center Auditorium and was also livestreamed.
In her opening remarks, Joan Vitello-Cicciu, PhD, RN, the Donna M. and Robert J. Manning Chair in Nursing, dean of the Tan Chingfen Graduate School of Nursing and professor of nursing, said, "As nurses, we are most privileged to be allowed into the most intimate periods of our patients' lives when they are the most vulnerable. I view this nurse-patient relationship as having a covenant with that patient because of the intimacy and spirituality of that connection."
"My wish for you is to take seriously this covenant with your patients as they will share their lived experiences, instilling many important values that will shape the nurse you will become," Dean Vitello added.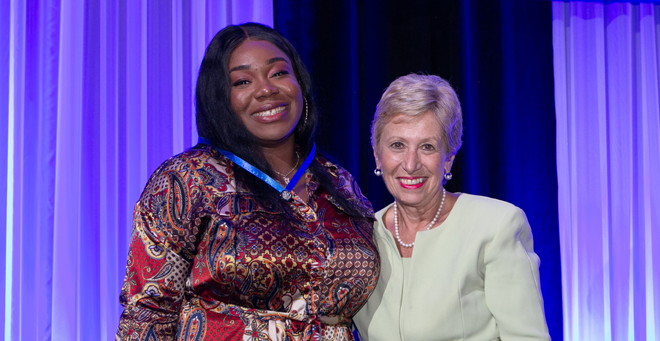 "The strength of the Graduate Entry Pathway program lies in its all-inclusive embrace of students from diverse walks of life and varied backgrounds," said nursing student Elizabeth Osa-Agbontaen, who spoke on behalf of the class. "Each member contributed unique experiences and insights, which enrich our collective journey."
Five GEP students earned honors for exceptional achievements: Leah Kachadorian received the Award for Academic Excellence; Ellen Burgess received the Award for Clinical Excellence; Osa-Agbontaen received the Spirit of Nursing Award; Joseph Bartuah received the Community Engagement Award; and Isabella Joseph accepted the Student Daisy Award.
Ray St. Peter and Peter Latino of UMass Memorial Medical Center shared the Outstanding Preceptor Award honors and the TaraVista Behavioral Health Center in Devens was recognized as Outstanding Clinical Partner.
Burgess performed the national anthem at the start of the program; Emma Thomas presented on the history of the GEP pin; and Lulu Alvarez led the class of 2023 in reciting the nursing pledge at the program's conclusion.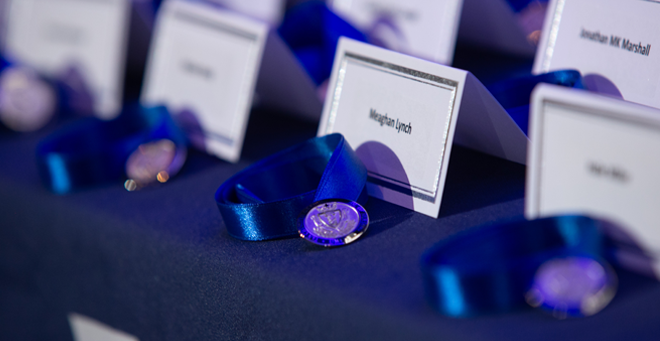 Graduate Entry Pathway Pinning 2023
Christerbell Ahaiwe
Lourdes Alvarez
Jeneba Aruna
Joseph Bartuah
Victoria Belanger
Ellen Burgess
Grace Cogan
Cynthia Delmas
Brianna Fay
Rebecca Getman
Melanie Hardy
Isabella Joseph
Leah Kachadorian
Abigail Kelly
Jerod Lin
Meaghan Lynch
Jonathan Marshall
Hannah Martin
Rickey McLane
Lorenzo Mendoza
Halie Miller
Alyssa Oldfield
Franklin Olulu
Elizabeth Osa-Agbontaen
Emma Packard
Asia Price
Deana Ramirez
Katie Reed
Alexander Reitz
Mariela Sandalis
Sydney Shead
Lena Stone
Emma Thomas
Alexandra Wahr