The UMass Chan chapter of White Coats for Black Lives and the Diversity and Inclusion Office will hold its inaugural Deborah Harmon Hines, PhD, Commencement Celebration on Friday, June 2.
Graduating students of color from the T.H. Chan School of Medicine, the Tan Chingfen Graduate School of Nursing, and the Morningside Graduate School of Biomedical Sciences, will be recognized and presented with Kente and multicultural stoles to wear at the 50th Commencement on June 4. Kente fabric comes from Ghana, West Africa, and represents unity, belonging, renewal and prosperity.
The annual celebration is part of ongoing efforts to illuminate the stories and experiences of students underrepresented in medicine and science.
"It's a celebration for everyone to attain a degree," said MD/PhD student Abiola Ogunsola. "But for some students, there are greater barriers and greater hurdles that might not be highlighted. Having this celebration for students who feel like they've faced any of those barriers or hurdles and be recognized, I think was important to us when we started it, but it also was a reminder that we not only make it through but can excel and do well."
The ceremony is named in honor of Deborah Harmon Hines, PhD, retired vice provost for school services, and professor of radiology and nursing. Dr. Hines is credited with establishing the Worcester Pipeline Collaborative with the Worcester Public Schools to increase the numbers of students from underrepresented groups and disadvantaged backgrounds entering careers in biotechnology, biomedical research and the health professions.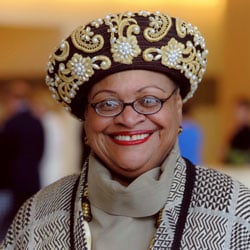 In 2016, Hines was awarded the Chancellor's Medal for Distinguished Service, in recognition of her leadership in medical education and diversity efforts, and in honor of the countless lives she touched through her work during her more than 30 years at UMass Chan.
Ogunsola said Hines was always available for her while she was a medical student and was instrumental in creating a supportive space at UMass Chan for students of color.
"I remember when I came to UMass Chan and everyone spoke so highly of Dr. Hines and she already had such a wonderful legacy. Now that she's moved on and retired, this ceremony will continue her legacy," Ogunsola said. "Many of the initiatives and groups we have here, and many of the senior students that we turn to for support, have all benefited from Dr. Hines and her involvement at UMass Chan."
Ogunsola is the co-president of the UMass Chan chapter of White Coats for Black Lives and helped launch UMass Chan's stole ceremony in 2021. She said during the stole ceremony, graduates will have the opportunity to stand up and share what they will be doing next after graduation.
"It's important for these graduating students to have the stage, share their greatest memories about UMass Chan, and tell us where they're going next," Ogunsola said. "Hearing these students share their plans is truly inspiring and helps build our community."
This year's ceremony, newly named in in honor of Hines, marks the third year graduating students of color will receive stoles.
The event at 5 p.m. in the Cube of the Albert Sherman Center is open to all graduating students. Attendees need to pre-register.