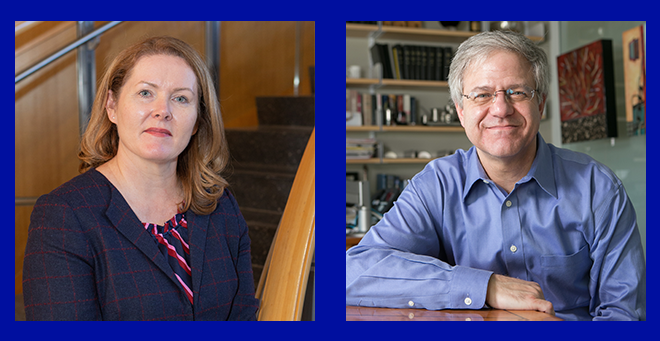 Katherine Fitzgerald, PhD, the Worcester Foundation for Biomedical Research Chair III, professor of medicine, associate vice provost for basic science research, vice chair of research in the Department of Medicine, chief of the Division of Innate Immunity and director of the Program in Innate Immunity, and Phillip D. Zamore, PhD, Howard Hughes Medical Institute Investigator, the Gretchen Stone Cook Chair in Biomedical Sciences, and chair and professor of RNA therapeutics, have been elected as members of the American Academy of Arts & Sciences.
Dr. Fitzgerald and Dr. Zamore are two of 269 people elected to the academy this year.
"I am honored to be elected to the American Academy of Arts & Sciences," Fitzgerald said. "This is wonderful recognition for all the members of my lab past and present who are the engine of any success I have had. I am grateful for all their work and am delighted this honor reflects all of their achievements. I am also grateful for the support I have had from UMass Chan over the years ."
Fitzgerald joined UMass Chan in 2001. She is an elected fellow of the American Society of Microbiology, the National Academy of Sciences and the National Academy of Medicine. Fitzgerald received her bachelor's degree in biochemistry from University College in Cork, Ireland, and her PhD in biochemistry from Trinity College in Dublin. She is also an elected member of the Royal Irish Academy.
Fitzgerald's research focuses on the innate immune system and understanding the molecular basis of the inflammatory response during infection and in inflammatory diseases. The aim of her research is to determine how innate immune sensing and signaling contribute to infectious, inflammatory and autoimmune diseases in humans. In 2018, Fitzgerald was awarded the Chancellor's Medal for Excellence in Scholarship at UMass Chan.
Zamore is a pioneer in the field of RNA silencing. Among his many discoveries, he is credited with identifying the biochemical machinery responsible for RNA silencing, the mechanism through which small pieces of genetic material can turn specific genes on or off. The Zamore lab studies model and non-model bacteria, insects, and mammals to understand the fundamental biology of RNA and to develop novel therapies for human diseases, including Huntington's disease.
"Election to the American Academy of Arts & Sciences is an honor that reflects the extraordinary students and postdocs with whom I have been privileged to work over the past 23 years at UMass Chan Medical School," Zamore said. "It is often said that each generation of scientists stands on the shoulders of giants, but what goes unmentioned is that having amazing colleagues surrounding you makes it a lot easier not to fall off."
Zamore joined UMass Chan in 1999. He received his bachelor's degree and his PhD in biochemistry and molecular biology from Harvard University. He is a fellow of the National Academy of Inventors. In 2015, Zamore was awarded the Chancellor's Medal for Excellence in Scholarship at UMass Chan.
Academy president David W. Oxtoby said, "With the election of these members, the Academy is honoring excellence, innovation and leadership and recognizing a broad array of stellar accomplishments. We hope every new member celebrates this achievement and joins our work advancing the common good."
Founded in 1780, the American Academy of Arts & Sciences honors excellence and leaders from every field of human endeavor to examine new ideas, address issues of importance to the nation and the world, and work together to cultivate every art and science.
Fitzgerald and Zamore join six UMass Chan faculty colleagues previously elected to the academy.