Bethany Berry represents UMass Chan students on UMass Board of Trustees
MD/PhD student tackles meningioma in the lab and advocates for diversity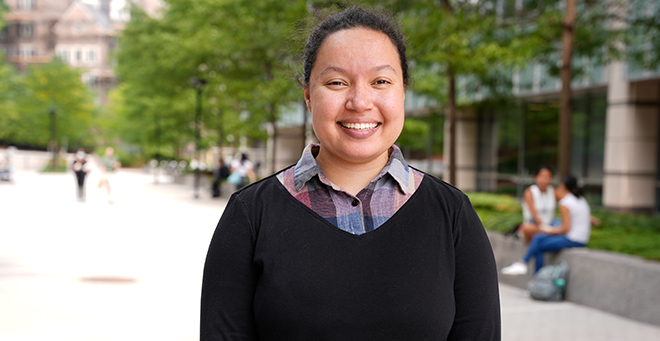 MD/PhD student Bethany Berry plans to champion diversity and advocacy as UMass Chan Medical School's student representative on the UMass Board of Trustees. On the heels of her first board meeting in September, Berry said that progress is a process.
"Moving the needle starts with advocating continuously for things that help every single student find the success that they came here for," Berry said. "I've already learned so much from the more senior board members. To see the regard that everyone has for each other is remarkable. Some people have been working together for 10 or 20 years to make our institution the best of the best."
Berry grew up in Maine and studied biology and neuroscience at Williams College. She always wanted to combine research and clinical work, proudly exclaiming, "MD/PhD all the way!"
"I appreciate the duality of the MD/PhD," Berry said. "I can see my impact through face-to-face patient interactions where I see them, hear them, and depending on the specialty, find ways to help them immediately. Concurrently the long-term gratification of working toward finding a cure or treatment to help thousands of people I might never meet has a different meaning to it."
Berry started studying cancer when she worked as a research technician at Dana-Farber Cancer Institute. Berry is in the T.H. Chan School of Medicine and the Cancer Biology and Neuroscience programs in the Morningside Graduate School of Biomedical Sciences. She focuses on epigenetic mechanisms of meningioma, a type of intracranial tumor, in the lab of Mark Johnson, MD, PhD, the Maroun Semaan Chair in Neurosurgery, chair and professor of neurological surgery and senior vice provost for mentorship, leadership and transformation at UMass Chan.
"I have so many opportunities in this clinical and translational space," Berry said. "This morning, for example, there was a tumor board where you can talk over a case with residents and attendings from different clinical departments with different expertise and viewpoints. In my research, I have the opportunity to take tumor tissue directly from a surgery back to the lab to study it. Understanding that the research we do here is tied to real patients is a level of significance that sometimes you miss in research when you're just dealing with cells."
As a trustee, Berry aims to advocate for students and improve communication, making sure students know about resources and opportunities that are available. Berry also serves as the chair of the Student Government Alliance, which aims to synergize campuswide community building, diversity and community outreach efforts.
Berry is a member of the Student National Medical Association, UMass LIGHT (Leadership Institute for Growth, Health and Transformation) mentorship program and White Coats for Black Lives. She also volunteers through the Cuddle Buddies program to hold babies in the NICU at UMass Memorial Medical Center.
Related UMass Chan news stories:
UMass Chan learners of color orientation offers tools to enhance student life, broaden support
Student-created mentorship groups shine through UMass LIGHT
UMass Chan student trustee focused on diversity, equity and inclusion