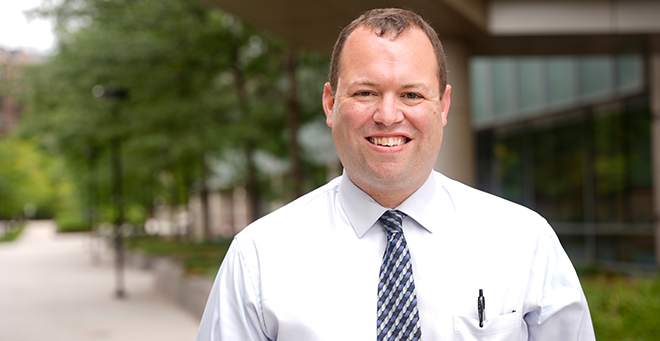 A UMass Chan Medical School faculty member is being recognized for his exceptional service as an adviser and mentor to medical students.
David Fish, MD, assistant professor of pediatrics, was named a recipient of the STARS Faculty Excellence Award from Costs of Care, a national nonprofit organization aiming to provide better health care at a lower cost, through its Choosing Wisely STARS (Students and Trainees Advocating for Resource Stewardship) program.
The STARS program gives students and faculty the chance to lead on campus and support their own career development through Costs of Care's mission to improve care and lower costs for patients.
Dr. Fish, the UMass Chan faculty adviser for STARS, was nominated by T.H. Chan School of Medicine students Rohan Bhat, Madison Jones, Connor Pauplis and Nathan Yee. They are members of the 2022 STARS cohort.
"It is undeniable that he is extremely knowledgeable and enthusiastic about the subject matter but nonetheless is deeply invested in our growth as future physicians and stewards of resources in medicine," the students said in their nomination. "He has sought out opportunities to connect us with other leaders in the field at our institution so that we may learn from them and their work as well as help us lay out and refine plans for engaging students across our institution."
Fish was also honored with an outstanding faculty award during the Chan School of Medicine Class of 2022 awards ceremony in June.
The Choosing Wisely STARS program recruits medical students from across the country and provides them with support and resources for student-led initiatives to advance health care affordability and equity. The program launched five years ago out of Dell Medical School in Austin, Texas.
Related UMass Chan news stories:
Resilient T.H. Chan School of Medicine Class of 2022 honored at awards ceremony
Summer learning opportunity at UMass Chan welcomes students underrepresented in medicine