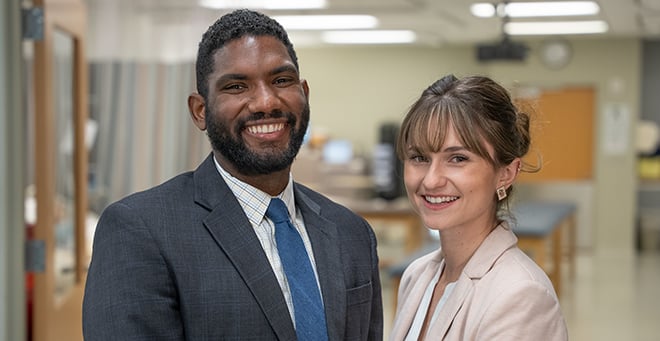 The Tan Chingfen Graduate School of Nursing at UMass Chan Medical School will hold its first Nursing White Coat Ceremony on Thursday, June 2, during this year's scholarship and awards celebration. Eighty-two advanced practice nursing students will don white coats signifying their professional advancement. The event takes place from 5 to 7 p.m. in the Albert Sherman Center auditorium.
"We are delighted to introduce this recognition of achievement for our advanced practice nursing students as they transition from one level of training to the next," said Joan Vitello, PhD, the Donna M. and Robert J. Manning Chair in Nursing, dean of the Tan Chingfen Graduate School Nursing and professor of nursing. "The timing is ideal as our school celebrates its new name in honor of the transformational gift that is supporting and enriching our students' educational opportunities."
The White Coat Ceremony is a rite of passage that serves to welcome students to health care practice and elevate the value of humanism as the core of health care. The Arnold P. Gold Foundation champions humanism in health care, defined as compassionate, collaborative and scientifically excellent care. Founded by Arnold P. Gold, MD, the foundation originated the White Coat Ceremony for medical students in 1993.
Since then, White Coat Ceremonies have been adopted at medical schools globally, and, starting in 2014, at nursing schools around the world as well. This year the Tan Graduate School of Nursing joins the growing number of nursing schools holding White Coat ceremonies.
Students spearheaded bringing the nursing ceremony to UMass Chan with strong support from school leadership. Emily Davenport Alonso and Ezequiel De Leon, both members of the Doctor of Nursing Practice Class of 2022, carried the effort forward for their leadership practicum.
"There are multiple transitions that can take place in a nursing career, from becoming a registered nurse to a nurse practitioner with a Master of Science or Doctor of Nursing Practice or a nursing scholar with a PhD," said De Leon. "The White Coat ceremony recognizes and commemorates those transitions."
The 32 members of the graduating DNP Class of 2022 and 47 DNP Class of 2023 students along with two post-graduate certificate recipients and one Advanced Generalist Registered Nurse student will receive and don their white coats and recite the Nightingale Pledge.
"We have had many champions along the way," said Davenport Alonso. "We look forward to thanking all who have made it possible at the ceremony." She and De Leon will present a brief history of the nursing profession and its attendant attire at the event.
Following the inaugural Nursing White Coat Ceremony on June 2 as part of pre-commencement celebrations, the event will become part of convocation celebrations each September, the same time the companion Graduate Entry Pinning Ceremony takes place. Additionally, PhD students will receive framed commemorative patches as part of the recognition ceremony.
Related UMass Chan news stories:
Like mother, like daughter: GSN student Emily Davenport grew up with extra caring touch
Graduate School of Nursing student Ezequiel De Leon seeks to care for vulnerable population
GSN welcomes 30 Graduate Entry Pathway students into nursing