Chancellor Collins named to Worcester Business Journal's Power 50
UMass Chan Medical School Chancellor Michael F. Collins was recognized by Worcester Business Journal May 2 as one of the Central Massachusetts' Power 50, a "who's who" of the most powerful and influential people in the region.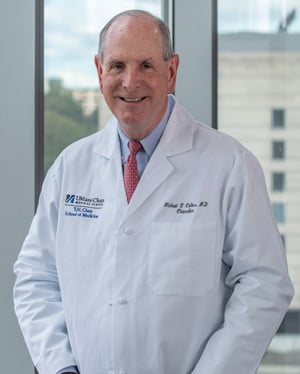 The prestigious designation recognizes Chancellor Collins' role in overseeing the extraordinary transformation of the Medical School enterprise during his 15-year tenure at the helm of the commonwealth's only public medical school, an influential and impactful institution for greater Worcester and a statewide resource.
"This is a well-deserved recognition of Chancellor Collins and his leadership of UMass Chan Medical School," said University of Massachusetts President Marty Meehan. "Under his stewardship, UMass Chan has grown to become one of the most respected, well-known and impactful institutions in academic medicine."
UMass Chan is one of the region's largest employers and its workforce is growing. Collins has prioritized investments to advance diversity and inclusion, health equity, wellness, professional development, and community engagement and impact among both the institution's workforce and its students.
Among the highlights of Collins' tenure is the changed landscape of the Worcester campus. On Nov. 8, 2021, U.S. Veterans Affairs Secretary Denis McDonough, Sen. Elizabeth Warren, Rep. Jim McGovern and Lt. Gov. Karyn Polito joined Collins and other federal, state and local partners to take part in a ribbon-cutting ceremony to mark completion of the 48,000-square-foot VA Community-based Outpatient Clinic. The specially designed clinic offers high quality primary, mental and specialty health care to nearly 17,000 veterans in central and western Massachusetts.
Also underway is construction of a nine-story new education and research building, a 350,000-square-foot building scheduled to open in early 2024. It will house faculty members and labs engaged in cutting-edge translational research into novel therapeutics for some of the most challenging human diseases.
To continue the rise of the Medical School's Nobel Prize-winning biomedical research, the institution received more than $400 million in total research awards in 2021, with nearly $300 million from National Institutes of Health funding, making UMass Chan the 21st highest NIH-funded institution among U.S. medical schools and the eighth for NIH funding among public medical schools.
UMass Chan's impact extends far beyond its campus. In January 2021, as the first COVID-19 vaccines began to ship out, Collins and UMass President Marty Meehan sparked creation of a volunteer Vaccine Corps when they co-authored a Boston Globe op-ed calling for mobilization of medical students and other volunteer health professionals to inoculate the public. To date, Vaccine Corps volunteers, coordinated by Commonwealth Medicine, the public service consulting and operations division of UMass Chan, have administered more than 100,000 COVID-19 vaccines at sites across the state.
Collins and his leadership team are credited with securing philanthropic funds to support these biomedical research, education and public service efforts, including the history-making $175 million gift from The Morningside Foundation announced on Sept. 7, 2021. This transformative gift, which was recognized by renaming the institution to UMass Chan Medical School and its graduate schools to the T.H. Chan School of Medicine; the Tan Chingfen Graduate School of Nursing; and the Morningside Graduate School of Biomedical Sciences, was soon followed by other major donations.
In February, it was announced that UMass alumni Dan and Diane M. Casey Riccio, PhD, pledged $15 million to UMass Chan Medical School to further expedite and support advances in neuroscience research. The gift includes $10 million for what will be named the Riccio ALS Accelerator Initiative and $5 million to expand and endow the Riccio Fund for Neuroscience, providing seed money for research collaborations.
In April, five new endowed chairs were established at UMass Chan, thanks to the generosity of Donna and Robert Manning, proud alumni and preeminent pillars of the University of Massachusetts. Robert Manning chairs the UMass Board of Trustees. The Mannings' $5 million gift endows Donna M. and Robert J. Manning Chairs in neurosciences, orthopedics, obstetrics and gynecology, nursing, and biomedical sciences.
Related UMass Chan news stories:
Donna and Robert Manning donate $5 million to UMass Chan to establish endowed chairs
UMass Chan Medical School ranks 10th nationwide for primary care education
Chancellor Collins touts UMass Chan's role as economic driver in revitalized Worcester